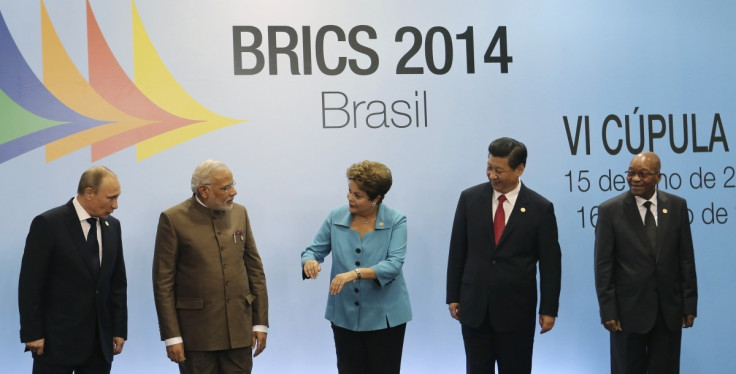 The similarities of the so-called Bric nations that prompted economist Jim O'Neill to coin the term in 2001 are vanishing, making the single economic concept of emerging economies irrelevant in recent times.
Bloomberg reported that the grouping of Brazil, Russia, India and China is currently disunited for stock investors.
According to data compiled by the news agency, Russian and Brazilian benchmark stock indices posted a mean drop of 4.2% in 2014, while their Indian and Chinese counterparts surged at an average 40%.
The combined market capitalisation of Chinese and Indian equities is now $5.2tn larger than that of Russia and Brazil.
"From a cyclical point of view, these four countries could hardly be more heterogeneous," Bloomberg quoted Hartmut Issel, the head of equity and credit for Asia Pacific at UBS Group AG's wealth-management unit in Singapore, as saying.
"China is slowing gently but still displaying enviable growth, India is starting to pick up, Brazil is in a protracted bottoming process, while in Russia a recession is likely becoming inevitable."
Stock markets in India gained as investors were optimistic about the Narendra Modi-led government's pro-growth measures, while China benefited from its leadership's moves to keep annual growth above 7%.
Meanwhile, Russia has been suffering from sanctions linked to the crisis in Ukraine and Brazil has grappled with an unprecedented corruption scandal involving its state-run oil company.
The MSCI BRIC index, indicating the performance of equity markets in the Bric economy, declined about 5% in 2014 as of 29 December.
"At the time BRIC was coined it was useful to describe the broad and increasing importance of the four largest emerging-market economies, but it was never suitable as an investing concept," said Mark Gordon-James, a senior investment manager at Aberdeen Asset Management.
In addition, the economic outlook for India and China remains favourable in contrast to that of Russia and Brazil, according to Bloomberg.