Rihanna could be joined by a very special guest at the Brit Awards, with rumours suggesting Drake could perform alongside the singer. Days after premiering their sizzling new music video, fans are hoping the former couple will share the stage to perform their new single, Work, at the awards ceremony in London.
The Diamonds songstress flew into the capital earlier in February alongside Young Money rapper Drake and the pair have been inseparable since, adding fuel to the rumours that he will join her at the awards. If speculation is true, the musicians are likely to recreate the chemistry seen in the two music videos released to support Work, which features Rihanna twerking against the hip hop star.
It is also possible Rihanna, 28, will perform the Consideration, which features on her latest album Anti, as the song's collaborator SZA is said to be in London. Perhaps practising their on-stage routine, Rihanna and Drake were spotted partying together at Libertine nightclub on 23 February where onlookers claim they danced to Work repeatedly and were getting intimate much like the video.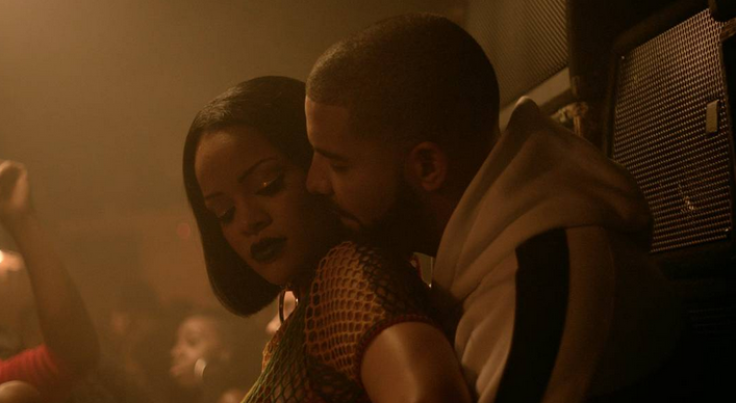 A source told the Mirror: "They seemed really into each other and didn't care who saw. Rihanna was grinding and twerking into him, and they kissed in full view of the floor. They were having such a good time, they didn't even notice it was 5.30am."
However Tim Erem, who directed the second Work visual, claims Rihanna and Drake are nothing more than good friends. The director told Entertainment Weekly: "These are just two friends that are really close to each other. Just put them in front of the camera and that's what they do.
"You start recording and the whole chemistry just changed. Everyone's asking, are they together or they this or are they that? No, they're friends. They're just amazing performers and they're really close to each other. So everything was natural."
Joining Rihanna and Drake on the Brits line-up are Adele, Justin Bieber, The Weeknd, Coldplay and Little Mix, while there will be a tribute to music icon David Bowie who died in January. The Brits will be hosted by Ant and Dec for the last time and viewers at home can watch the ceremony from 8pm on ITV.
Watch Rihanna and Drake's Work videos: