MPs from Labour, the Conservatives and Ukip have set up a group to fight for a No vote in Britain's EU membership referendum.
The seven MPs - Douglas Carswell of Ukip, Tories Bernard Jenkin, Owen Paterson and Steve Baker and Labour's Kate Hoey, Kelvin Hopkins and Graham Stringer – have set up an "exploratory committee for the EU referendum".
Hoey leads a group of Eurosceptic Labour MPs who teamed up with one of the party's biggest private donors to launch a campaign to push for a "full dialogue" ahead of the promised EU referendum.
The "Labour for Britain" group has the support of John Mills, the founder of household goods firm JML, who gave Labour £1.6m ($2.5m) worth of shares last year.
The group has met several times in Paterson's Westminster offices since the 7 May elections, reports the Financial Times.
One person not in the group is Nigel Farage, with Baker saying they didn't want the Ukip leader dominating or leading the campaign.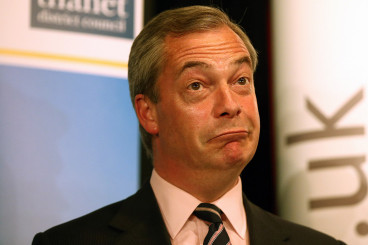 "I don't think that Nigel Farage should run it as the lead figure," said Baker, co-chairman of the Conservatives for Britain group. I actually don't think that any Member of Parliament or leading politician should."
The group was instead looking for a figure from the business world to lead the Eurosceptic group.
One Ukip insider told the FT that Farage's exclusion was due in part to money, given that the main No grouping can spend up to £7m (about $10m) in the campaign — including £600,000 of public money.
"That could pay for quite a few staff, press officers, researchers," said the Ukip figure.
"That is why they are trying to exclude us, it explains the briefings against Nigel."
But one of the seven MPs dismissed this, saying: "To have any chance of winning we need people who don't antagonise the type of Eurosceptic Labour voter of which there are thousands in my constituency."
Another person involved in the committee said a prominent position for Farage would "be great fun for journalists and we would lose".