GDP Q2 Shock: UK Economy Shrinks 0.7% as Jubilee Holiday, Wet Weather Slam Recovery [VIDEO]
Britain's economy shrank an astonishing 0.7 percent in the three months ending in June, the Office for National Statistics said, extending the worst double-dip recession in at least 50 years.
The decline was the biggest single quarter-on-quarter dip in at least three years, the ONS said, while the year-on-year contraction of 0.8 percent was the steepest since the fourth quarter of 2009. Both figures were well shy of analysts' forecasts of 0.2 percent and 0.3 percent respectively.
The ONS said the figures reflected poor weather and the extra Jubilee celebration holiday which led to what it called "additional uncertainty" in its efforts to calculate the growth figures.
Chancellor George Osborne said the disappointing figures confirmed Britain's deep-rooted economic problems.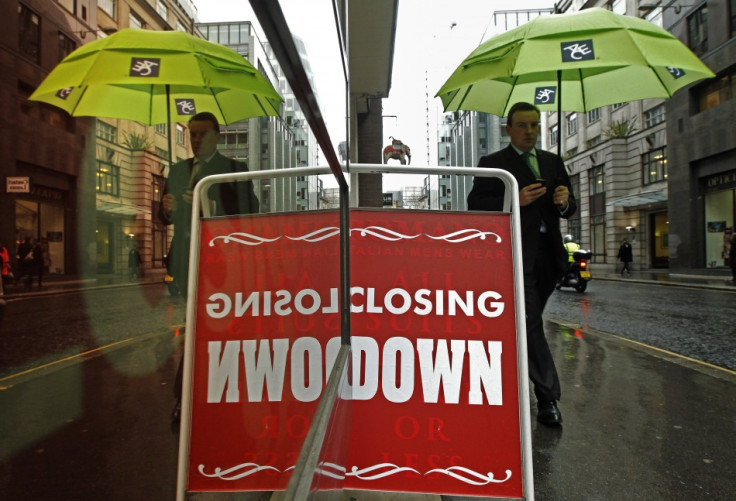 The figures put more pressure on Osborne, as critics inside and outside his party start to doubt his credibility as chancellor. A worsening recession also raises questions over the government's "plan A" of austerity.
Prime Minister David Cameron is reshuffling his cabinet in September and some think Osborne will be moved out of the Treasury.
That would be politically difficult for Cameron and the plan A agenda as it would thyen appear that even the prime minister doubted his government's economic policy.
The chancellor is stubbornly sticking to the coalition government's austerity plan, which sees it shrink the size of the public sector by cutting departmental spending and slashing jobs.
The aim is to tackle the Treasury's budget deficit left behind after the opposition Labour party's 13 years in government.
Keynesian economic theory
Bringing down the deficit through cuts is imperative, argues the government, because the debt required to maintain pre-financial crisis spending is unsustainable.
Critics argue that this is a time to invoke Keynesian economic theory and increase fiscal stimulus to boost demand and growth, using the subsequent boost to Treasury coffers to pay down the deficit.
Despite Osborne's austerity measures, falling tax receipts and a contracting economy has seen public borrowing soar.
The UK's debt-to-GDP ratio hit a 42-year high in June, with a liability worth 66.1 percent of the country's output.
Britain's double-dip recession - its first since the 1970s - started in the final quarter of 2011 with a 0.4 percent contraction.
A collapse in construction sector output in the first three months of 2012 ensured that the contraction continued into a full technical recession, with a 0.3 percent decline in GDP.
The country's economic woes continued into the second quarter, with private industry data showing a further dramatic decline in construction sector output, as well as continued contraction in manufacturing sector activity, and anaemic growth in the service sector.
Bad weather, which saw record rainfall in June, hindered the retail sector.
Heavy discounting mostly from clothing retailers, which caused a sharp decline in inflation to 2.4 percent in June, could not lift consumer demand, which has slumped underneath dismal economic data, high unemployment, and the looming threat of a eurozone catastrophe.
Osborne gave a signal that his fiscal credibility through austerity defence has weakened to the Keynesians by announcing billions in infrastructure investment.
Around £9bn will be ploughed into rail infrastructure projects. The government has also offered to underwrite billions of infrastructure projects that are waiting to start, but cannot find financing.
Pick-up in the third quarter
The Treasury has also backed two new credit easing schemes from the Bank of England that see UK financial institutions offered cheap loans in the hope that it frees up affordable lending for consumers and small and medium sized businesses, the so-called "real economy".
Access to bank credit has tightened in recent years, as fears over taking on additional lending risk while their exposure to the uncertainty of crisis-mired eurozone economies looms overhead, threatening serious losses in the event of a financial disaster.
The UK economy is expected to pick up in the third quarter.
"We have slightly stronger household consumption growth. In part, this is arithmetic," Ross Walker, RBS analyst, told IBTimes UK.
"Inflation is falling more rapidly than expected, so if nominal spending growth was unchanged from Q2, but you've got less inflation, by definition you've got stronger volumes growth."
Walker predicted an Olympics-related boost to consumption worth around 0.2 percentage points.
As consumption picks up and with "a bit of a bounce in investment expenditure, which is running off a low base", said Walker, RBS has pencilled in 0.6 percent GDP growth in Q3.
"There's an Olympics effect, there's a base effect, normalisation. Obviously we don't expect that pace of growth to be sustained, but from here it looks like the third quarter might superficially be a bit better," he said.
Accountancy firm Ernst & Young issued a report predicting an "Indian summer" of growth for the UK economy, driven by consumer spending as inflation falls.
However inflation figures suggest that the price of everyday items is getting increasingly expensive, as are rent and energy costs, despite the headline figure falling sharply, suggesting consumers' disposable cash will be eaten up by a rising cost of living.
© Copyright IBTimes 2023. All rights reserved.