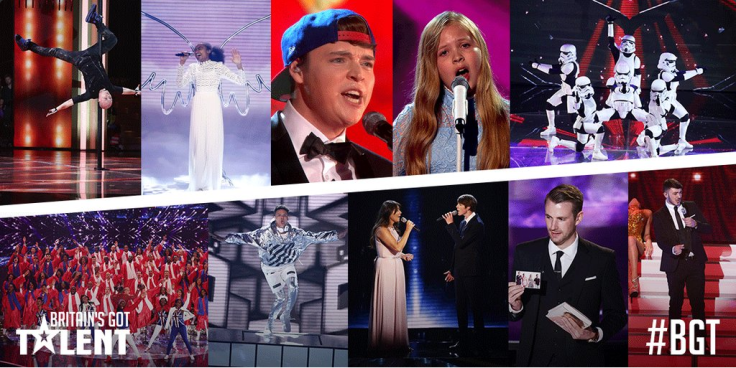 The act set to perform in front of The Queen at the 2016 Royal Variety Performance will be revealed this weekend as the Britain's Got Talent finalists battle it out for the regal reward along with a £250,000 cash prize. Kerching.
Though this year's show hasn't been short of controversy, from Alesha Dixon's race row to Simon Cowell reportedly fuming about the use of puppies on the late night spin-off show Britain's Got More Talent, the talent has been rifer than ever. From gospel choirs to dancing storm troopers, this year's line-up is nothing short of diverse. So check out the finalists and their semi-final performances below.
100 Voices of Gospel
If you're looking for the feel-good factor, look no further than this lot. A bundle of joy every time they've taken to the BGT stage, they never fail to bring the audience to their feet. So it's no wonder that they were Dixon's Golden Buzzer choice and described by Cowell as being "in a different league." Controversially, they were already enjoying a successful career before auditioning, selling tickets to their concerts for £100 a pop.
Mel and Jamie
Not many young 16-year-old lads would jump at the chance of singing with their mother, but adorable duo Mel and Jamie didn't fail to impress with their moving semi-final performance, landing them a second place in the final. Their victory came as a surprise and the pair admitted to "gobsmacked" by the result as the judges had to send the vote back to the public as it was between them and Welsh singing wonder Kathleen Jenkins.
Wayne Woodward
The Danny Dyer of swing, some might say, this cheeky chappy from London is the crooner of this year's series and wowed the judges and audience with his rendition of Frank Sinatra's That's Life. He might not have the best voice in the world, but his natural charisma and infectiously charming personality have won him a deserved place in the final. We also love how he sings as though he's guzzled a few Old Fashioneds before every performance too.
Alex Magala
If you're squeamish, then look away now. But if you don't mind watching someone ram a metre-long sword down their throat, you'll be just fine. The death-defying entertainer from Moldova has already competed in various other Got Talents across the world, and won the Russian version, and didn't fail to shock with his semi-final act that made the audience jump out of their skin.
Richard Jones
You may roll your eyes at the thought of seeing another magician fail to pull a fluffy rabbit out of their hat. But this 25-year-old soldier-turned-wizard is nothing short of mesmerizing. The current favourite to win after leaving viewers aghast at his clever semi-final performance, prompting Cowell to remark, "That has to be magic. You are genuinely nice guy who has magic powers," we can see this guy going all the way.
Boogie Storm
Viewers were shocked when Cowell chose this group of dancing storm troopers as his Golden Buzzer act, since they're simply mediocre dancers masked by their futuristic costumes. They were put through on the public vote against ballet-dancing Jack Higgins after the judges failed to make a decision. Perhaps Cowell has well and truly softened since becoming a father.
Beau Dermott
Yes, this little girl with a voice ready for the West End stage really is 12 years old. The quintessential BGT contestant with her raw, sizzling singing talent and unassuming personality, little Beau could bag the big prize, with Walliams citing, "you're definitely a potential winner of this show" after her show-stopping performance of Someone Like You from Jekyll and Hyde. It came as no surprise that she was musical-loving Amanda Holden's Golden Buzzer.
Balance Unity
Perhaps Boogie Storm should take some notes from Balance Unity, a dancing phenomenon called Taylor Goodridge. All four judges put him through to the final over Kyrgustani dancers Tumar KR. His futuristic costume and great tracks including Michael Jackson and James Brown's hit, along with his cheeky smile, could have only helped rack up the votes furthermore.
Craig Ball
Surprise winner of the night, impressionist Craig Ball, managed to beat show-favourite Trip Hazard the dog and Ant and Dec's Golden Buzzer act Jasmine Elcock with his impersonations of Disney and cartoon characters whilst singing Adele's Hello. Entertaining yet not mind-blowing, even Ball was "taken aback" when Cowell jumped onto his feet at the end of his performance. It adds to the final's miscellaneous range and he carries it off with humour and charm.
Jasmine Elcock
The apple of Ant and Dec's eye, this 14-year-old has a singing voice to be reckoned with. She didn't let the Geordie double act down as she astounded the judges with her angelic performance of Birdy's wings. Ant congratulated his little prodigy after she breezed through, saying: "Well done, I'm very proud of you." D'aw.
PUBLIC WILDCARD
Trip Hazard
Our personal favourite act here at IBTimes UK, we couldn't quite believe our eyes when this performing pooch didn't land a place in the final first off. Giving Ashleigh and Pudsey a run for their money, Lucy and cutie-pie Maltese-Pomeranian were the stars of the semi-final with their Beauty & The Beast inspired dance and trick routine. We'll be barking mad if they don't win.
JUDGES' WILDCARD
Shannon and Peter
The BGT jduges awarded their Wildcard to ballet dancing couple Shannon and Peter. Their captivating semi-final performance wowed the panel and they narrowly missed out on going through to the final, but now they've been given a second chance to nab that coveted spot at this year's Royal Variety show.
Watch Britain's Got Talent Live Final at 7.30pm on Saturday (28 May) on ITV.