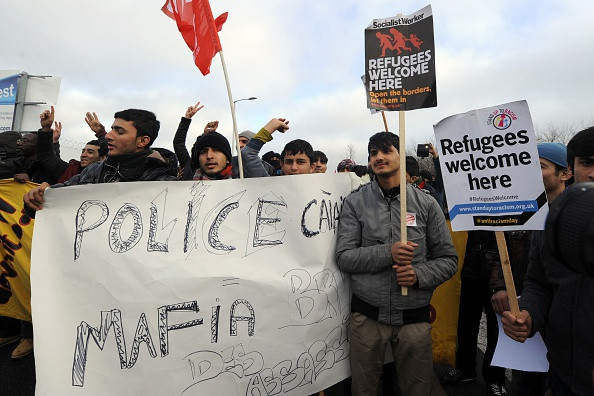 The riot that led to 50 migrants storming a ferry in Calais was driven by a group of radical British anti-capitalists, it has been reported.
Video footage has emerged where British voices are heard encouraging the migrants in the stampede on Saturday (23 January).
French officials said activists from the group No Borders and fellow anarchist group Calais Solidarity were causing havoc in the migrant camps, and urged British police to get involved to stop it happening again, the Sun reported.
Eight people who were arrested over the storming of the ferry bound for Britain are to face immediate trial for boarding the ship illegally. They were among a group of about 50 who stormed the P&O ferry, the Spirit of Britain after about 350 people broke through police lines and invaded the port forcing it to close for several hours.
Calais police chief Gille Debove told The Sun that 90% of the people involved with No Borders were from Britain.
"They stir up the migrants and cause us a lot of problems. Last week they organised a blockade of the motorway near the Calais camp and the migrants used the chaos to get into trucks," he said. The group was said to have organised and co-ordinated the weekend attack on Facebook.
Meanwhile, Bernard Cazeneuve, the French Interior Minister, said 35 people, including 26 migrants and nine activists were arrested. Fifteen were taken into custody, he added.
Amid fresh calls for the French military to be deployed in the port city, Cazeneuve said the country's government had a total determination to maintain law and order. In a statement, he said mobile forces, including squadrons of gendarmes, supported by territorial units and border police, had been mobilised for several months.
And he said significant work had been done around the Channel Tunnel and Calais port with the help of the British authorities to prevent disorder.
Richard Burnett, the Road Haulage Association's chief executive, said the problems facing British truckers in Calais had become routine as he called for urgent action.
"This shocking breach of security shows that the migrant mayhem in and around Calais is not being tackled," Burnett said.