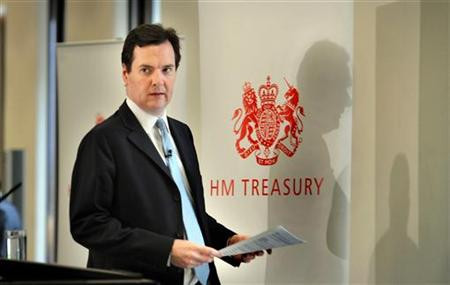 The British government looks likely to loan Ireland around seven billion pounds as part of a bailout deal for the debt-struck nation.
Yesterday the Irish government confirmed that it would be seeking a rescue package from the European Union and the International Monetary Fund. While the final details of the package are yet to be confirmed it is believed that the bailout will be take the form of loans worth 80 billion to 90 billion euros.
Last week the Irish government continued to deny that it would need a bailout, however on Thursday the governor of the central bank in Ireland, Patrick Honohan, said that he expected a bailout would be necessary.
Speaking to the BBC this morning the British Chancellor of the Exchequer, George Osborne, said, "What we have committed to do is to obviously be partners as shareholders in the IMF in an international rescue of the Irish economy.
"But we've also made a commitment to consider a bilateral loan that reflects the fact we're not part of the euro, and don't want to be part of the euro, but Ireland is our very closest economic neighbour."
Mr Osborne has pointed out that much of British exports go to Ireland and that some of Britain's biggest banks, such as RBS, are heavily exposed to debt problems in Ireland.