British holidaymaker finds giant toxic centipede in dirty laundry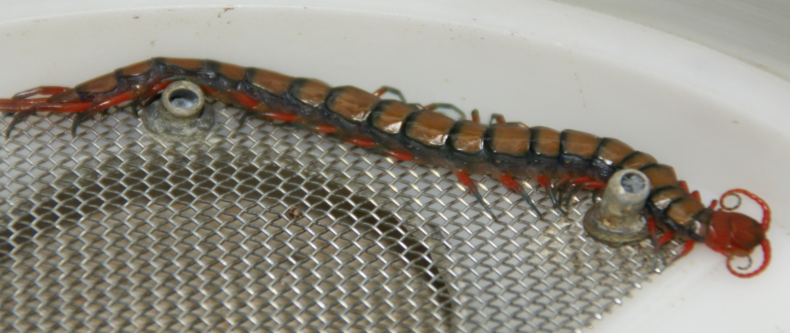 A British holidaymaker had a shock when she unpacked her holiday bags and found an unwelcome stowaway - a venomous Peruvian giant centipede.
The 11cm-long arthropod, who has been named Curtley, snuck inside Jennie Esler's dirty laundry as she packed her bags to return home from a holiday in Antigua on Saturday (6 June).
The Peruvian giant centipede is toxic to humans, and one of the largest of its kind. Although the species is unlikely to be fatal to humans, it can cause severe pain, swelling, chills, fever and weakness.
"I have no idea when he actually got in there, but I packed it up to leave on the Saturday morning, popped to the beach for a bit and then made our way up to the airport," said Esler.
"We arrived home after an eight-hour flight at 9am on Sunday and went straight to sleep.
"By this point Curtley must have been in the bag for at least 20 hours but I didn't unpack that bag for another 24 hours."
Curtley made an appearance as Esler unpacked the last of her dirty washing.
"At first I thought I was seeing things and then I peered inside and saw nothing but legs against the black fabric of the bag," she said.
"He didn't actually run out, he was quite shy. I had to tip him out of the bag into the bathroom sink, as I didn't really know what he was at this point."
"I couldn't believe it when I saw him . How did he get there? I didn't know what to do so I called the RSPCA who advised me to ring [Bristol] zoo and the rest is history."
Bristol Zoo's assistant curator of invertebrates, Mark Bushell, said: "Curtley has settled in well.
"It is hard to tell whether Curtley is male or female but we do know that they like digging tunnels and particularly like eating crickets."
More about invertebrates