British troops tell Ministry of Defence morale is falling amid cuts to Armed Forces
Elite commando force The Royal Marines have seen 'large decreases' in morale and satisfaction.
Morale among the UK's armed forces has taken a hit as the services face cuts from the Conservative government, Ministry of Defence figures have revealed.
The 2017 Armed Forces Continuous Attitude Survey (AFCAS) found that 35% of respondents said that they are dissatisfied with service life, up 4% on 2016.
The survey also found that 38% of personnel – from the Army, Navy, Royal Marines and the RAF – reported "high self morale", 2% below last year.
"The proportion of personnel who perceive service moral as being low has increased since 2016, driven by the Army (up 12%) and changes in the Royal Marines (up to 15%)," the government released said.
Elite commando force the Royal Marines, who are being cut by 200, have seen "large decreases" in morale, according to the Ministry of Defence.
The proportion of Royal Marine officers who rate service morale as high has plummeted by 20% from 2016 to 41%, with other ranks recording 16%, down by 13% compared to 2016.
"In an unpredictable age, we need forces that are fast, flexible and mobile," said Liberal Democrat Peer and former Lord Paddy Ashdown.
"That's what the Royal Marines do at a world-class level. But the government has just announced damaging cuts of 200 marines, with no assurance that there won't be more cuts in the future.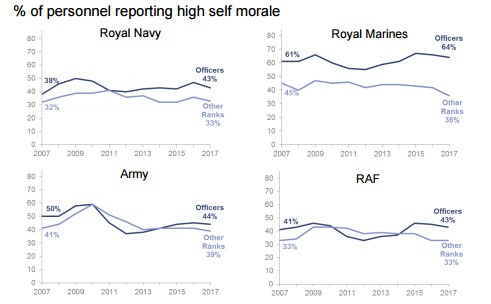 MoD/ONS
"The Royal Marines have carried the greatest burden in the defence of our country over the last decade – they have fought in more theatres and won more battles than any other British unit.
"They are also the crucial manpower pool from which we draw many of our Special Forces. We need them as never before."
The cuts have seen overall full-time Army personnel numbers drop to 81,700, down from more than 102,000 in 2010, according to the BBC.
Jeremy Corbyn has promised to boost police numbers and the Labour manifesto has committed the party to spending 2% of GDP per year on defence to meet the NATO target. The Conservatives, meanwhile, have promised to increase defence spending by at least 0.5% above inflation every year until 2022.
"Only a vote for me and my Conservative team will deliver the strong and stable leadership that is vital for our national security," May said.
The Ministry of Defence report comes just two weeks before the general election on 8 June.