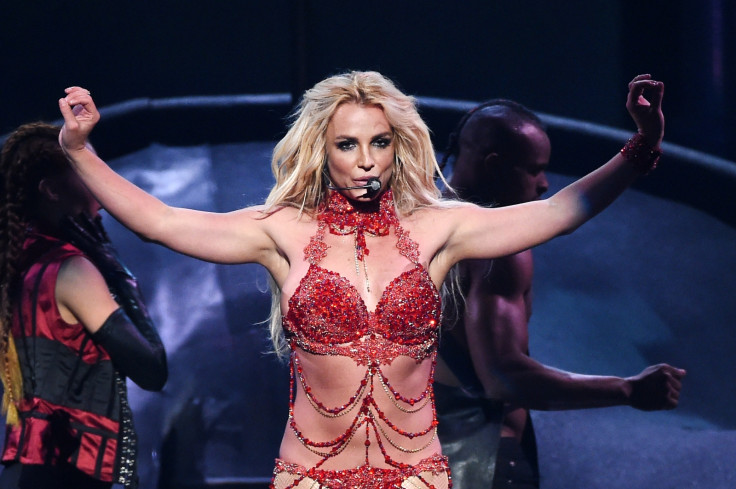 Britney Spears wrapped up her Las Vegas performance on a high note — with a show-stopping raunchy display, which involved over nine costume changes and a near wardrobe malfunction.
The 36-year-old pop star delighted fans in a number of sexy lingerie style ensemble at her final Vegas gig at the AXIS, Planet Hollywood for a New Year's Eve performance. One part of the show featured Spears dancing around a pole rocking a black cut-out lingerie outfit.
The sequined, and shimmery bra drew attention to the Oops!...I Did It Again hitmaker's breast area, as she accidentally offered a peek at her assets, while dancing around the pole for her energetic performance, claimed the Daily Star Magazine.
Britney teamed the raunchy costume with a pair of fishnet tights and black boots, made for strutting across the stage. The American singer also changed into a red plunging ensemble for another segment of the show, while another outfit change saw the beauty rocking a strappy bondage style two-piece.
However, this is not the first malfunction for Spears. She exposed a little too much skin during her Las Vegas concert back in November. Decked in a lingerie-style black attire, a red feather boa, and stocking, the Toxic singer was performing to a packed crowd for her Piece Of Me stage show, her skimpy outfit lead to some accidental flashing to a roaring audience.
The pop star who is dating fitness model Sam Asghari shared an adorable video with her boyfriend on Instagram. In the clip, Spears sat with her arm around the model, with their faces featuring furry pink animal ears thanks to a camera filter.
"Are you excited about your last couple shows?" Asghari asked, to which Spears replied with "Yes." "Are you excited about 2018?" he then questioned Spears. Again, Spears replied in the affirmative. "You look beautiful," Asghari told his girlfriend. "Thank you, and I love you," the pop star said before giving him a kiss on the cheek as he grinned.
Asghari posted the same video to his account, captioning his, "Happy New Year from me and my partner in crime."
The couple who first met on the set of Spears' "Slumber Party" music video, looked much in love. Last month, Asghari admitted the pop star was his "one and only" while wishing her a happy birthday on Instagram.
He gushed, "Thank you for being you, thank you for showing me the true meaning of a beautiful woman and a strong mother, and most of all thank you for being mine," he gushed. "I consider myself the luckiest man on this planet."