The global average connection speed was 4.6Mbps in the second quarter of 2014 -- the first time average speed has exceeded the 4Mbps "broadband" threshold, according to the Akamai Q2 2014 State of the Internet Report.
The global average peak connection speed also improved to 25.4Mbps in Q2 2014. All but one of the 139 qualifying countries/regions experienced average peak connection speed increases in the quarter.
In the UK, the average connection speed was 11.1Mbps and the average peak speed 46.6Mbps. This means the UK firmly beat the average, coming in at 16 among European peers and other countries from the EMEA region.
Year on year, the global average peak connection speed was up by 34%. 125 countries/regions experienced increases over the year to Q2 2014.
Akamai defines "high broadband" as connection speeds greater than 10Mbps, and "broadband" as connections of greater than 4Mbps.
The global high broadband (>10 Mbps) adoption rate continued to grow in Q2 2014, making up 23% of global Internet connections. Year on year, the global high broadband adoption rate was up by 65%
The global broadband (>4 Mbps) adoption rate grew to 59% of total internet connections. Year on year, the global broadband adoption rate increased 18%.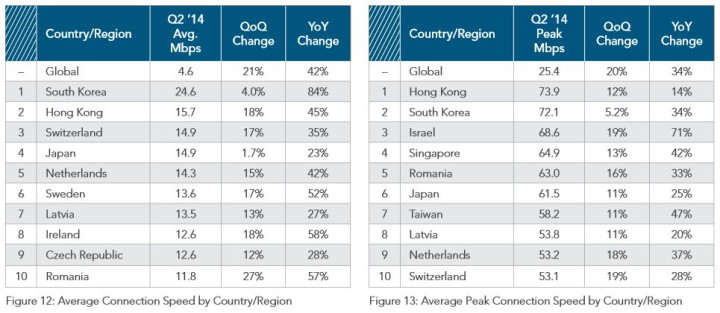 The Akamai State of the Internet reports uses data gathered from across the Akamai Intelligent Platform, one of the world's largest distributed computing networks.