A doting father got the fright of his life while taking holiday photos of his 10-year-old son surfing off the coast of Australia, after spotting an eight-foot (2.5m) Great White shark just inches from the surfboard.
Young Eden Hasson had no idea about the near-miss with the predator until father Chris Hasson showed him the astonishing picture.
The incident took place at Samurai Beach near Port Stephens in New South Wales. Eden, who was enjoying the last rays of daylight as his father took pictures from the rocks, was not harmed in the incident.
"When I took off I thought I saw something and when I went to do the first snap off the top I hit something and I thought it was seaweed," Eden told the Mail Online.
"Then when [Dad] called me in I thought it must be a shark because there was a big school of fish we saw."
Chris had been taking photos when he saw movement in the water. When he zoomed in he saw the shark and immediately called his son and the other surfers in.
"Eden was half way out and I called everyone in," said Hasson. "I showed them the photo and everyone was in awe laughing. One of the surfers said just before the wave a large school of mullet arrived."
In 2016, 150 incidents of shark-human "interaction" were recorded, including 81 unprovoked attacks on humans. Scientists believe the number of attacks may rise, simply because there is a growing human population spending time in the ocean compared to an increase in the number or ferocity of sharks.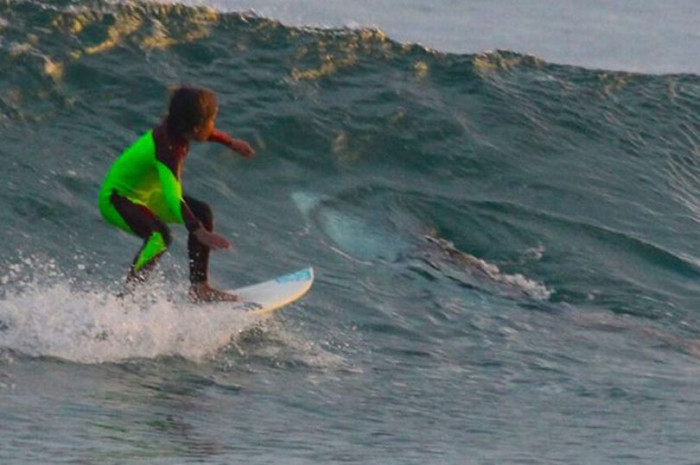 Danny Bucher, marine biology associate professor at Danny Bucher, told ABC News that the shark at Samurai Beach appeared to be trying to get out of the way of the board. "From the look of it, it looks like it's started to roll on its back as it has gone through the wave," said Bucher. "That would probably indicate that it's trying to actually swim away from the approaching board."