Brussels attack: Isis claims responsibility as police launch manhunt for airport bombing suspect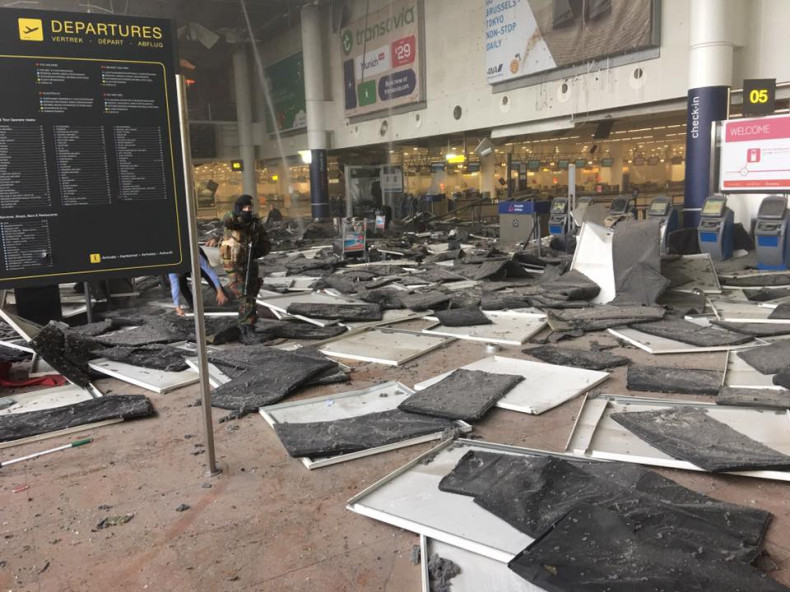 Islamic State (Isis) has claimed responsibility for multiple suicide bombings that killed more than 30 people in Brussels, as Belgian authorities launched a manhunt for a potential suspect on the run. The jihadi group said its militants targeted the Belgian capital's airport and a central metro station with "explosive belts" on 22 March, just days after the chief suspect in the November attacks in Paris was arrested in the city.
The departure lounge of the Zaventem airport was torn up by two explosions that went off at around 8am local time causing the partial collapse of the ceiling and creating widespread damage. At least 14 people were killed and 92 more injured.
About an hour later at the peak of rush hour a bomb exploded on a packed subway train at the Maalbeek station, near the EU headquarters. It left more than 20 passengers dead and scores wounded, sparking chaotic scenes in the area, with people running for shelter. A makeshift first aid hospital was set up in nearby pub. "It was panic everywhere. There were a lot of people in the metro," said commuter Alexandre Brans.
At the airport witnesses said they heard Arabic shouting and gunfire before the twin blasts, which went off near the Swissport counter and a Starbucks café. "There was an indescribable chaos, victims everywhere. There were also many injured, people whose legs had been torn off," eyewitness Alphonse Youla told Le Soir newspaper.
Early reports suggested a three-man commando entered the terminal and set off the explosions. Two were believed to have died detonating suicide vests while a third might have escaped. In its statement ran by the affiliated Amaq news agency, IS said its fighters opened inside the terminal fire "before several of them detonated their explosive belts".
Security forces searching the premises later found at least one Kalashnikov rifle and an unexploded bomb that was safely deactivated. Several Belgian media released security camera footage showing three men said to be the suspected attackers pushing baggage trolleys inside the airport building.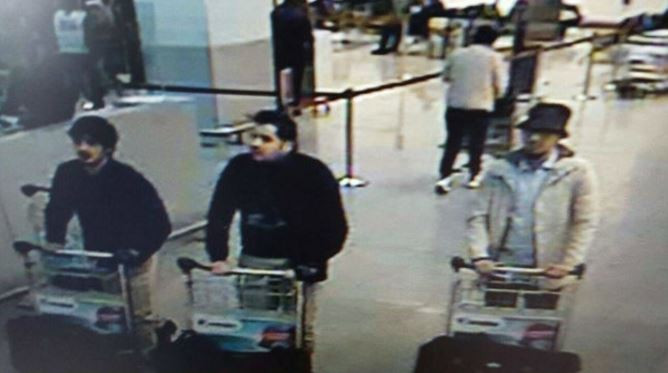 Surveillance-camera footage allegedly of three suspects linked to the attack on the airport in Zaventem, close to Belgium's capital Brussels, has emerged.
Twitter
One of the three, seen wearing a white jacket, large glasses and a hat, was subsequently made the subject of wanted notice and appeal for information by the federal police.
The metro station blast was instead caused by a sole suicide bomber, according to Amaq but there was no official confirmation from authorities that instead said at least a suicide attacker operated at the airport.
IS said the carnage was in retaliation for Belgium's backing of a US-led coalition carrying out air strikes against the group in Syria and Iraq.
After the explosions the European capital was placed under lockdown. People were urged to stay indoors and all public transportation suspended.
"What we feared has happened," Belgian Prime Minister Charles Michel told reporters. "In this time of tragedy, this black moment for our country, I appeal to everyone to remain calm but also to show solidarity."
The government raised its terror alert to the highest level as its neighbours France, Germany and the Netherlands tightened border controls. "Terrorists struck Brussels, but it was Europe that was targeted, said French President Francois Hollande.
The attacks came only days from the arrest of suspected IS militant Salah Abdeslam and less than 24 hours after Belgian prosecutors identified the suspected bomb maker of the Paris attacks as 24-year-old Belgian national Najim Laachraoui, who is currently at large.
There was no immediate evidence linking Abdeslam and Laachraoui to the Brussels attacks, besides from the common IS affiliation. However Abdeslam told authorities that he after the Paris attacks had set up a new jihadi network, which was planning to strike again when he was captured 500 meters from his home in the district of Molenbeek on 18 March.
After an emergency meeting with his top ministers and security officials, British Prime Minister David Cameron said police presence was to be increased at transport hubs across the country including ports, airports, metro stations and international railway stations.
The government also updated its travel advice urging Britons to "stay away from crowded places and avoid public transport. US president Barack Obama condemned the attacks, also pledging to do "whatever is necessary to support our friend and ally Belgium in bringing to justice those who are responsible".
"We must be together regardless of nationality or race or faith in fighting against the scourge of terrorism," he said speaking from an historic official trip to Havana, Cuba.
In the afternoon Belgian crisis centre lifted movement restrictions in Brussels and train stations were reopening. Zaventem airport was however to remain closed at least through 23 March, while authorities across Europe tightened airport security.
All 28 EU members issued a joint statement of solidarity with Belgium. "This latest attack only strengthens our resolve to defend the European values and tolerance from the attacks of the intolerant. We will be united and firm in the fight against hatred, violent extremism and terrorism," the statement read.