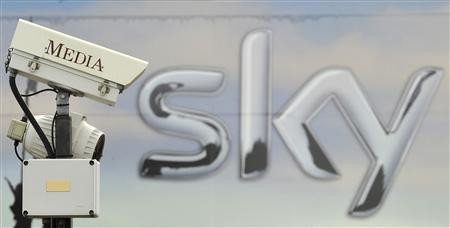 Shares in BSkyB were soaring almost 20 per cent on the FTSE 100 in afternoon trading after it emerged that News Corporation, owned by Rupert Murdoch, is attempting to takeover the remaining 60.9 per cent of the company's shares that it does not yet hold.
This morning BSkyB rejected an offer of 700 pence per share that put the value of the company at around £12 billion.
BSkyB said however that it would be willing to recommend an offer to shareholders if it was "in excess of 800 pence per share". The company said that it recognised a takeover could be in its interest and said it would not be asking the Takeover Panel to put a "put up or shut up" notice against News Corporation.
Nicholas Ferguson, BSkyB's Senior Independent Non-Executive Director, said, "The eight Independent Directors have evaluated the proposal since receiving News Corporation's approach on 10 June. Based on careful review and advice, it is the unanimous view of the Independent Directors that there is a significant gap between the proposal from News Corporation and the value of the company.
"We believe the company has a track record of very strong performance and excellent growth prospects. The management team will remain fully focused on its strategic and operational priorities, positioning the Company well to grow earnings and cash and increase returns for shareholders. The Independent Directors remain fully committed to acting in the interests of all shareholders and will continue to meet on a regular basis."
By 13:41 shares in BSkyB were up 19.40 per cent on the FTSE 100 to 717.00 pence per share.
Mr Murdoch's News Corporation already owns newspapers the Sun, Times and News of the World. Should it acquire BSkyB it would further cement its position as the number one media company in Britain.
Any deal which may be agreed would still need regulatory approval and could potentially face opposition from the OFT as a deal could damage competition in the British market.