Witnesses have praised the actions of a builder who rescued a family from a burning rooftop following a huge fire at a London nightclub. More than 100 firefighters tackled the blaze – which began in the morning of 8 August – ripping through the Studio 338 nightclub in Greenwich.
One man in his 20s remains in critical condition with life threatening injuries. The London fire Brigade confirmed on 9 August that around 20 firefighters and officers remain at the scene to help dampen down the area from the outside.
Police arrested 14 people on suspicion of arson, but all were subsequently de-arrested. Enquiries are still ongoing with the London Fire Brigade to determine the cause of the fire.
During the blaze, one eyewitnesses described seeing a builder help rescue six people – including a young girl –trapped on the rooftop of the club. Joe Linyard, 19, who was working opposite the blaze, told the Evening Standard: "There was a bit of smoke and then all of a sudden there was thick black smoke and you could start to see the flames appear.
"The family appeared on the roof and started chucking down loads of bags of their belongings. They were all shouting for help and the builder ran and put up his ladder. He climbed to the top and grabbed the girl, who can't have been more than five years old.
"He took her down then helped everyone else. The fire was getting more fierce all the time. He was a real hero. He saved them in the nick of time."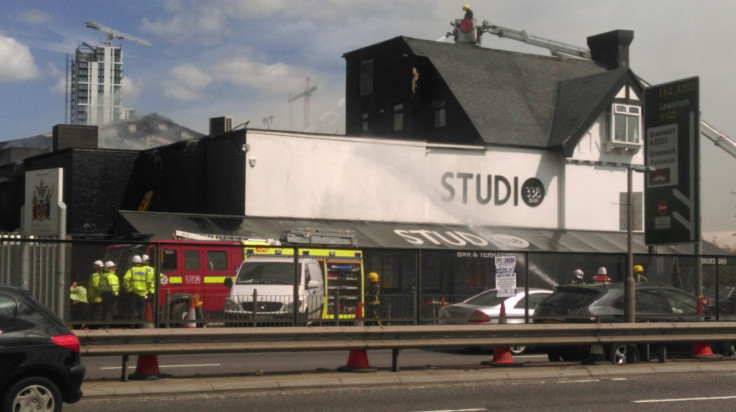 Steve Edwards, who works at the nearby Evening Standard distribution warehouse, told IBTimes UK: "We knew it was a big fire when we first saw it. The flames were all going down the side, the roof was on fire, it wasn't in our yard by then. The fire brigade came almost immediately and we were told to move out about 12.10. It was really catching hold by then. The firefighters have obviously controlled it slightly now as the smoke has turned from black to white."
Studio 338's general manager reassured regular clubgoers: "things are only finished if you let them be" as they vowed to get the club back and running again. Dozens of people also expressed their love for the 3,000 capacity club following the news it had burned down.
The statement, given to dance music website Resident Adviser, read: "Myself and the team here want to thank you all for your support and the lovely messages we have received today. It's at times like this that you realise what wonderful people we have involved in London's dance music community.
"Although this is of course a very sad and upsetting day for everyone who has worked, performed or partied at Studio 338, right now we have stay positive and strong. I and the awesome team here will do everything and anything to get us all back dancing together as soon as possible."
A Met Police spokesperson said: "An investigation has been launched after a fire at a Greenwich nightclub left a man fighting for his life. Police were called to Boord Street, Greenwich, by London Fire Brigade at 11:55hrs on Monday, 8 August, to reports of a fire in progress.
"London Ambulance Service was also called to the scene. One man, aged in his twenties was taken to an east London hospital where he remains in a critical condition. Fourteen men were arrested on suspicion of arson. They were taken to various south London police stations. They were subsequently de-arrested.
"Detectives from Greenwich CID are investigating. Cordons are still in place. Enquiries continue with investigators from the London Fire Brigade. The Health and Safety Executive have also been informed."