A tapestry of prints, textures and patterns embraced the feminine silhouettes as Burberry presented its runway show at the ongoing London Fashion Week. The British luxury fashion house unveiled its new women's wear collection on the fifth day of the fashion show in Kensington Gardens.
The collection — A Patchwork — featured textured clothing, chequered dresses and jacquard outfits by the fashion giant's sub-brand Burberry Prorsum. Models walked in military-tailored coats with hand-sewn bead fringing and hand-embroidered sequin dresses in a spectacular show that featured live music performance by British singer-songwriter Jake Bugg.
The collection also included glossy puffer jacket, metallic shade minidresses, cashmere overcoats and a colourful set of patchwork bags.
"The collection is all the things that I love, a patchwork of all different things from the Mitford sisters (six sisters who scandalised the British society of the 1930s) to the military and a little bit of glam-rock," Burberry chief executive Christopher Bailey said backstage after the show, according to AFP. He said the collection, which will debut in stores in June, was inspired by a "patchwork of influences".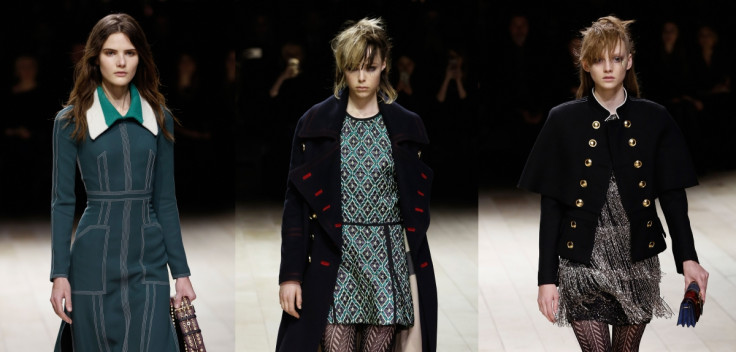 A Patchwork is targeted at international markets and for all weather conditions. "This is a collection of clothes that will be delivered in stores in very hot climates and very cold climates," Bailey added. "You've got big, heavy cashmere coats and you've also got very light dresses."
"It feels like the fashion industry is supposed to embrace change and this format shows you can evolve and change," Bailey said of the collection, which also included pleated skirts, glossy python coats and fur-trimmed leather jackets.