From 19-23 February, London is awash with fashionistas as designers, models, stylists, reporters, critics and bloggers gather in venues across the English capital, including Tate Britain, the imposing Freemasons' Hall and a car park. Among the 83 designers presenting their autumn/winter 2016 collections are Burberry, Alexander McQueen, Erdem and Topshop Unique.
The backstage areas at the shows are akin to beauty factories, with huge teams of make-up artists and hair stylists putting together the latest looks on an assembly line of models. IBTimes UK takes you behind the scenes at London Fashion Week autumn/winter 2016.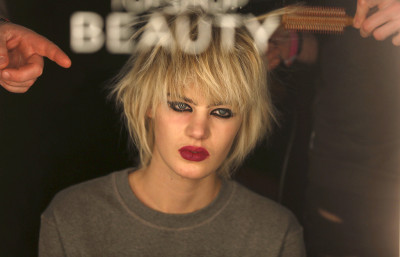 Among the first to show at LFW 2016 for autumn/winter 2016 was South Korean designer J JS Lee, who said that her line was inspired by Victorian architecture and furnishings. Models wore tailored trouser and skirt suits with frayed detailing as well as dresses with draped detailing in red, yellow, black and white.
Also showing was South Korean designer Eudon Choi, who originally started out as a menswear designer before moving into womenswear. Speaking backstage at his show, he talked about the insecurities he felt whenever he creates a new collection, saying: "Every season it's just agony. I think that's the most exciting part but also most stressful part: 'What am I going to do next season?' I just feel so insecure, like I'm the worst designer in the world, but I guess all creative people feel the same. It's the agony of creativity."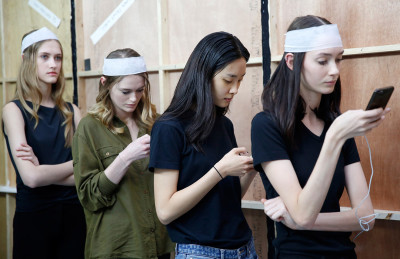 One of the most anticipated shows was that of luxury goods brand Mulberry, which returned on Sunday (21 February) after a three-year break from the runway with new creative director Johnny Coca, formerly of Louis Vuitton and Céline. Another highlight this year was the Alexander McQueen show, which moved from Paris to London — the hometown of the brand's late designer — for the first time in more than a decade.
Burberry and Tom Ford announced new strategies that would allow them to close the gap between the runway and retail in order to get clothing and accessories more quickly to customers in different climates around the world. Burberry said it would no longer present two separate womenswear and menswear shows a year, but instead hold February and September shows that would feature both menswear and womenswear collections. Ford announced it would debut its autumn/winter collection in early September and make it available to purchase in stores and online on the same day.