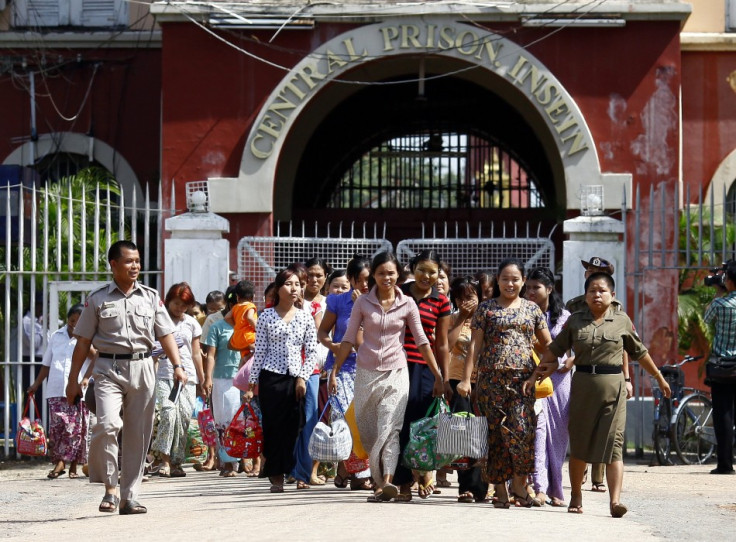 Burma's tightly controlled state media has announced that the government is set to release more than 6,000 prisoners, showing the authorities hope the international sanctions that have isolated the country could in return soon be alleviated.
Despite weeks of allegations that Burmese officials are preparing to release a large number of prisoners, details of such a plan have yet to be fully revealed.
The country has been imposed a set of economic and political sanctions, following a disastrous human rights records, which has led to its economic isolations, but the U.S. and the E.U. have previously set as a pre-condition for the lift of sanctions, the release of political prisoners.
News of the move could now indicate the newly nominated government, which took power in March is set on implementing a set of reforms, which could help revamp the damaged image of the country.
Burma's long-ruling military junta handed power to an elected civilian administration in March, which despite being seen as closely aligned with the military, has ensures it wants to move away from the country's previous hard-line policies.
Since being handed power, the government has eased some media restrictions, suspended the construction of a controversial Chinese-backed dam opposed by environmentalists and even entered in talks with Aung San Suu Kyi, an opposition leader.
With the authorities' new found flexibility, Kurt Campbell, the US assistant secretary of state for Asia, hinted Monday that Washington could review its position regarding Burma.
"We are prepared for a new chapter in our relations [with Burma]," said Mr Campbell. "We are watching carefully developments on the ground and I think it would be fair to say that we will match their steps with comparable steps."
According to state media as much as 6,359 inmates could be released from Wednesday onward under a humanitarian amnesty for the elderly, infirm and those who have demonstrated good "moral behaviour," according to the Associated Press.
"The amnesty will start tomorrow and we hope that it may include some political prisoners," said Bo Kyi, secretary of the Thailand-based Assistance Association for Political Prisoners (Burma).
Activists say that political prisoners include lawyers, journalists and political activists, and prominent members of several political parties affiliated with the country's ethnic minorities.
A commission set up by the government had also called for the government to release "prisoners of conscience" just a few hours before the announcement of the release of prisoners appeared in the state media, leading critics to doubt of the sincerity of the new government.