The 28 suspects in a failed coup in Burundi's capital Bujumbura have decided to appeal the Burundian Supreme Court's verdict, which included four life sentences, IBTimes UK can reveal. Four of the leaders of the failed coup staged on 13 May 13, 2015, were sentenced to life in prison on Friday (15 January) afternoon, while nine others were jailed for 30 years for their roles in the attempt to overthrow President Pierre Nkurunziza.
In a letter sent to IBTimes UK, one of the coup plotters' lawyer, Bernard Maingain confirmed all the military and policemen trialled by the court in Gitega denounced "an unjust and unfair trial" and were appealing the court's 15 January decision.
"All the military and policemen sentenced by the Court in Gitega (case RPS 87) have decided to unanimously to introduce an appeal procedure," the letter read. "They would like to repeat, with calm and determination, that they have been victims of an unjust and inequitable trial, during which the defence has been bullied to avoid any contradictory debate and free speech."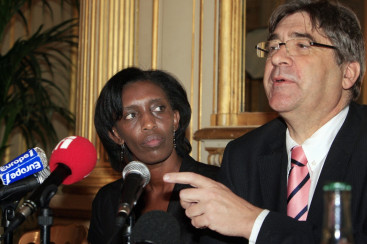 According to Maingain, the accused believe their trial was marred by "permanent interference between the political authorities and the justice which was supposed to be totally independent". The lawyer continued: "Even if they are under no illusions that the capacity of leading a loyal judicial debate in Burundi (currently), they believe the appeal could allow them to denounce (in the long run) the treatment they have been victims before other jurisdictions in Africa".
According to the judges, four generals – including former defence minister Cyrille Ndayirukiye, who was the deputy-chief of the coup plotters, Zenon Ndabaneze, Hermenegilde Nimenya and Juvenal Niyungeko – were sentenced to "life jail" for being masterminds of the coup staged against the President and other institutions in May 2015 while Nkurunziza was in Dar-es-Salaam, Tanzania, attending an East African Community (EAC) summit.
The verdict also said eight suspects will serve five years in jail while seven other suspects were acquitted. All were charged with "an attempt to unseat the country's constitutional institutions", as well as assassinations and other violent acts, according to Justice Ministry spokeswoman Agnes Bangiricenge.