Burundi: UN confirms human rights abuse - 6 questions to assess the escalation of violence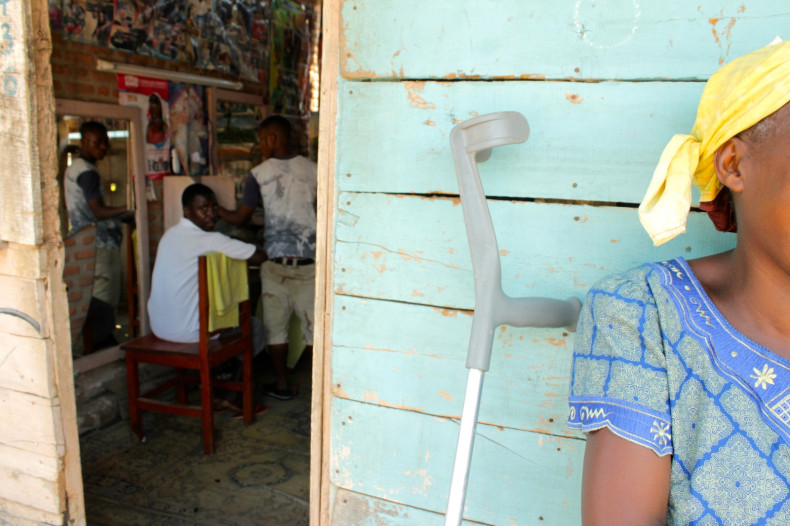 United Nations human rights chief Zeid Ra'ad Al Hussein said on 15 January that "deeply worrying new trends are emerging in Burundi, including cases of sexual violence by security forces and a sharp increase in enforced disappearances and torture cases."
Cases of secual violence against women have been documented, and the UN has heard allegations that "police and army forces arrested considerable numbers of young men, many of whom were later tortured, killed or taken to unknown destinations," said Hussein.
Ahead of the latest effort by the international community to establish a political process in Burundi with a United Nations Security Council (UNSC) visit to Burundi planned for 20 - 22 January, IBTimes UK unpacks the current situation in the embattled nation.
How many have died?
The death toll in Burundi may have been greatly underestimated, with latest numbers almost double that of the United Nation's December estimates of 400.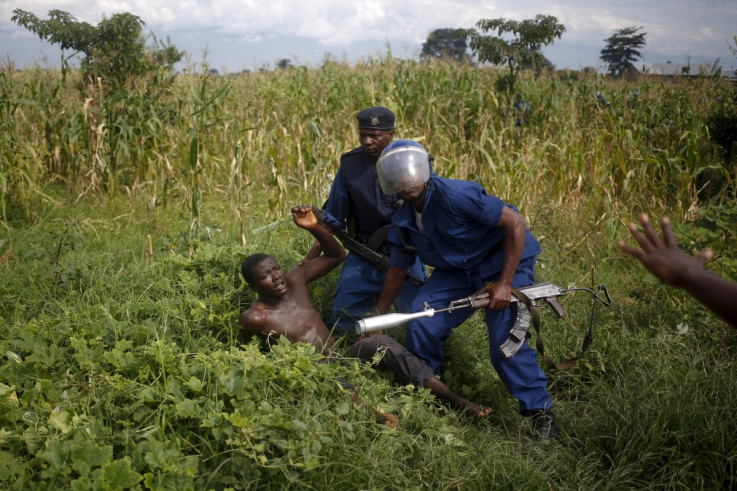 A policeman detains a protester during a protest in the Buterere neighbourhood of Bujumbura, Burundi, May 12, 2015.
REUTERS/Goran Tomasevic
Cara Jones, an expert on Burundi, said her latest research has found that between 800 and 900 people had been killed since April, when civil unrest erupted after the ruling CNDD-FDD party announced President Pierre Nkurunziza would run for a third term in office.
Clashes between armed groups and forces loyal to CNDD-FDD and Nkurunziza have caused many collateral victims. The nation faced horrific levels of violence after dozens were killed following coordinated assaults on two army barracks in the capital Bujumbura on 11 December.
Vengeance killings left at least 90 people dead within 24 hours – most of them were civilians. Presidential adviser Willy Nyamitwe, blamed the attacks on "Sindumuja" (I am not a slave), a term used for the opposition often described by the government as insurgents.
Who is responsible for the killings?
While a large number of fragmented Burundian armed opposition groups have been operating in the country for years, the main groups include ex- or current-FNL, fighters linked to MSD, and some from groups operating in Democratic Republic of Congo (DRC) and Tanzania. The situation has been further complicated by the formation of two insurgency groups in late December, Forebu and RED-Tabara.
"No one is quite sure who these people are – either new groups or an incarnation of previous ones," Carina Tertsakian, senior researcher on Burundi and Rwanda at Human Rights Watch, told IBTimes UK.
"The concern from our point of view...is that some of those armed groups have been responsible for killings in Burundi, particularly killings targeted at members of the ruling party, or people suspected of being close to the ruling party, as well as police."
Rebel attacks are likely to inflame the situation further because, following bouts of violence, "the government and the security forces come in very heavy-handed and target or kill an even larger number of people," Tertsakian said.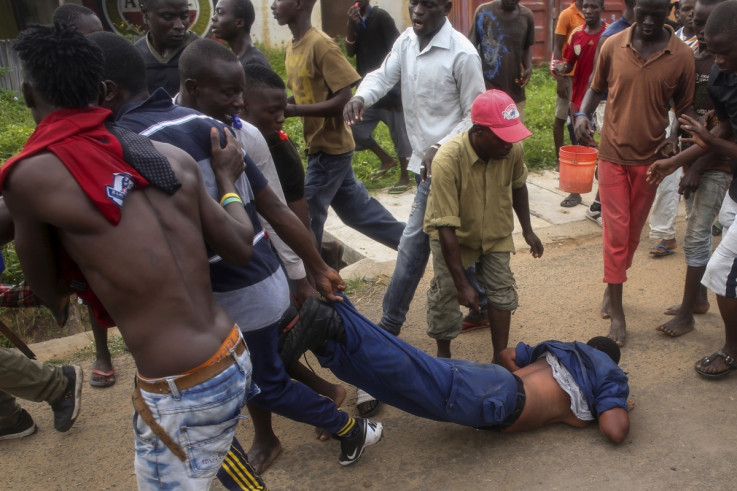 Protesters drag policewoman Medikintos Inabezain (33) through the Buterere neighbourhood of Bujumbura, Burundi, May 12, 2015. Protesters opposed to the president's decision to run for a third term chased, beat and stoned the woman, who was later handed back to police
REUTERS/Goran Tomasevic
The UN high commission for Human Rights on 15 January confirmed the increasing reports of rape and sexual violence committed against women by armed men, in so-called "dissenting" neighbourhoods, where anti-third term protests spread.
Rights activists allege rapes are committed by the Burundian National Police and Imbonerakure (members of CNDD-FDD's youth wing). Interior ministry spokesman Therence Ntahiraja denied the allegations, describing them as mounted by the opposition with the aim of demonising Burundian security forces.
What about the Burundian army?
Army splits are what sparked Burundi's crises in the 1980s and again in 1993, and it is feared that Burundi could again slip into civil war. While information is difficult to substantiate, analysts say there have probably been somewhere between 500 and 1,000 defections (out of a 20,000-strong force) so far since 13 May failed coup – led by military 'putschists'.
"It does seem very clear that there are members of the army who have joined the opposition," Jones said, highlighting how former Colonel Edouard Nshimirimana deserted in September before creating the new rebellion force Forebu.
Aware of the danger of a split along political and/or ethnic lines, the Burundian government has been re-shuffling the army, pulling people in and out of positions of power and influence to avoid this, sources told IBTimes UK.
The US Army Installation Management Command, IMCOM, which provides funding for the military community is, according to those sources, the army's largest source of funding, with soldiers on that mission reported to receive around $800 (£560, €730) a month. The US have threatened to pull the plug on this funding – a very difficult and lengthy process – but this could leave scarce monetary incentives for officers to remain loyal to the regime.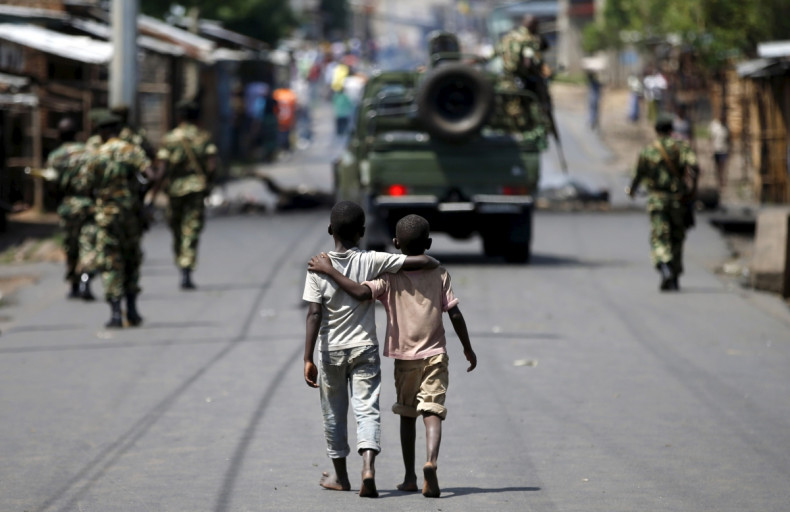 Can the violence spill into neighbouring countries?
Rwanda's government denied any involvement in the recruitment or training of rebels, despite analysts claiming some officers in camps are turning a blind eye. It is clear neighbouring Rwanda has no intention of getting involved in Burundi by arming rebels given the levels of violence, but many believe it may be the first to intervene should things escalate quickly.
Although an unlikely scenario, Jones points to the possibility of violence spilling into DRC, which has already been marred by pre-elections violence "which is only going to make things worse". Nearby Uganda is also preparing for elections.
M23 rebels, who brought havoc to eastern DRC between April 2012 and November 2013, denied recent reports that Burundian rebels have infiltrated their ranks in eastern Congo, despite DRC security services voicing their concern after intercepting dozens of Burundian rebels on Congolese soil.

Meanwhile, Kenyan authorities have been taking depositions from Burundian refugees who claim to have received threats from supporters of the country's ruling party, who they allege are posing as fleeing refugees in order to eliminate a number of Burundians in exile in Kenya, Rwanda and Uganda.
Why are the African Union and United Nations not intervening?
African Union (AU) mediation efforts under the auspices of Uganda's President Yoweri Museveni appear to have all but stalled.
Reasons behind AU's stalled efforts seem to be three-fold: Burundians have pushed back; there have probably been internal negotiations between Uganda, and to a lesser extent Tanzania and Burundi, to try and push the talks as a way to settle this; and the AU could not have immediately sent a mission as it would have had to go through the AU general Assembly, and probably the UNSC, to actually get off the ground.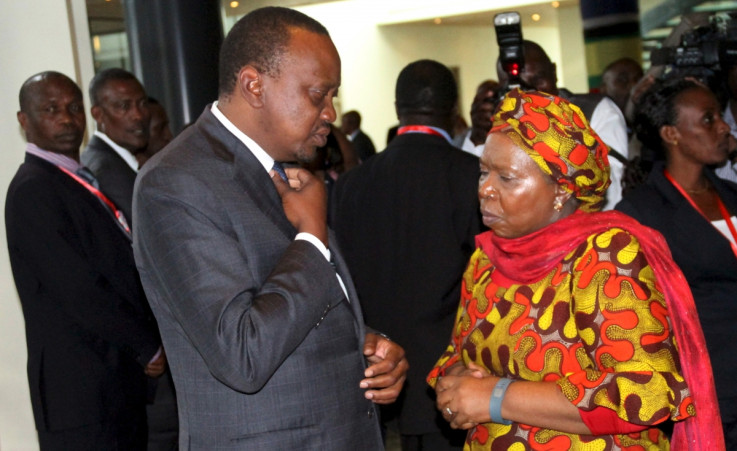 Kenya's President Uhuru Kenyatta (L) talks to African Union Commission Chairperson Nkosazana Dlamini-Zuma during the summit to discuss the crisis in Burundi, in Dar es Salaam, Tanzania.
Reuters
However, it seems that while Tanzania under former President Jakaya Kikwete was a stumbling block in any kind of East African Community (EAC) intervention due to his close relationship to Bujumbura, John Magufuli's newly elected government is changing its foreign policy.
Indeed, Foreign Minister Augustine Mahiga became the first EAC member to openly support the deployment of 5,000 peacekeeping troops to Burundi. Tanzania is supporting the largest share of Burundian refugees, taking in 124,000.
The latest revelations from the United Nations that the organisation would not be adequately prepared to act should the worst scenario of violence occur in Burundi seems to show that the international community has no plans.
In a leaked memo, the UN head of peacekeeping operations, Hervé Ladsous, said the body was limited in its ability to combat significant violence in the event no country stepped up to protect civilians. The Security Council will file a report following its 20-22 January visit to Burundi. "But anyone's actions now seem rather ineffective when you have kidnappings, extra-judicial tortures and bodies still found in the streets everyday," Jones said.
Is the peace process dead?
Nkurunziza's delegation refused to attend the AU's scheduled 6 and 16 January round of negotiations with leaders of Burundi's umbrella opposition group, CNARED, which it accuses of involvement in May's coup, and of recruiting refugees in neighbouring countries to wage war on Bujumbura.
Insiders have told IBTimes UK they believe "it could help soften Nkurunziza's position if his accusations that neighbouring Rwanda is supporting rebels to topple the government are taken seriously. Uganda's Defence Minister, Crispus Kiyonga, a mediator of the talks between government and the opposition this week said regional leaders would investigate the claims, which Rwanda denies.