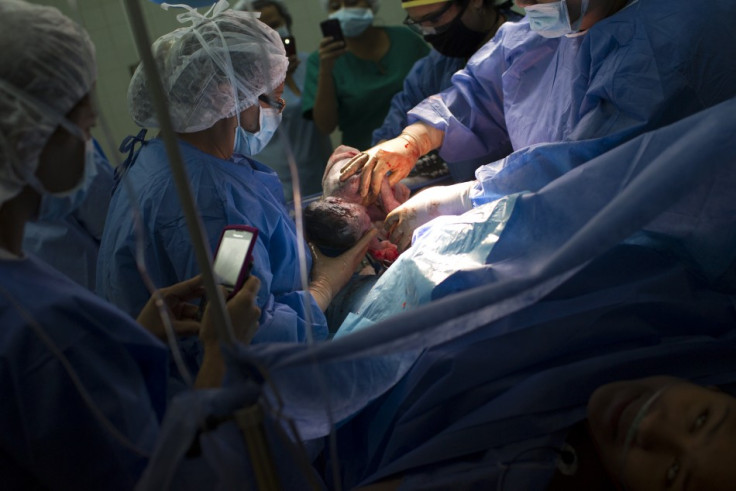 The risk of uterine rupture increases in women who had more previous caesarean deliveries, according to a new study.
Uterine rupture is a life-threatening complication in which the wall of the uterus tears during pregnancy. During labour, if a woman suffers a rupture, the woman's womb may get damaged. The woman must have an immediate caesarean section to save both her life and that of her baby.
Scientists led by Kathryn Fitzpatrick from the National Perinatal Epidemiology Unit at the University of Oxford in the UK conducted a national case-control study between April 2009-2010 and identified women in the UK with a uterine rupture.
As many as 159 women with a uterine rupture and 448 women with a previous caesarean delivery were studied. The incidence in uterine rupture was 2.1 per 1,000 women with a previous caesarean delivery and planning for a normal delivery; 0.03 per cent of rupture incidence was found among women with repeat cesarean deliveries.
In addition, the study showed that the risk of rupture increased with women who had multiple previous caesarean deliveries.
While two women among the 150 with uterine rupture died, there were 18 prenatal deaths among 145 infants which were associated with uterine rupture.
Symptoms and Conclusion
The symptoms of uterine rupture include fetal heart rate abnormalities, abdominal pain, and vaginal bleeding. The infants may also develop respiratory distress syndrome and other life-threatening complications.
The authors concluded that though the uterus rupture occurs rarely like 1 in every 500 women, there is a high risk in case of women who had more than two deliveries. They also said that the risk is more if there is just a short interval between a previous caesarean section and labour induction.
The scientists insist that these factors should be carefully considered before a woman with a previous caesarean delivery goes for labour delivery.
The study has been published in the Public Library of Science Medicine journal (PLoS).