An explosive wildfire consumed hundreds of houses and other buildings throughout rural communities north of California's Napa Valley, leaving at least one person dead and sending tens of thousands fleeing as flames approached their homes.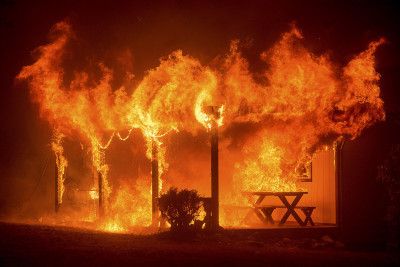 The Valley Fire, now ranked as the most destructive among scores of blazes that have ravaged the drought-stricken western United States this summer, came amid what California fire officials described as "unheard-of fire behaviour" this season. A combination of drought and a heatwave had left tinder dry and highly combustible, setting the stage for a conflagration that thwarted the best efforts of firefighters to contain it, Cal Fire spokesman Daniel Berlant said. "Every time they made progress, the fire would burn right past them," he said, adding that embers carried by the wind were sparking new blazes and enlarging the fire zone.
During its first 12 hours, the blaze had devoured 40,000 acres of forest, brush and grasslands at what Cal Fire spokeswoman Amy Head called an "unprecedented rate" of spread for a wildfire.
A 72-year-old disabled woman died when she became trapped in her home about 20 miles (30km) from Napa Valley. Authorities flooded with requests for evacuation assistance could not rescue retired teacher Barbara McWilliams when she called for help. The flames prevented deputies from reaching her home, and rescue workers found her body when the fire subsided, Lake County Sheriff's Lieutenant Steve Brooks said. Her caretaker, Jennifer Hittson, told the Santa Rosa Press Democrat newspaper that McWilliams had advanced multiple sclerosis and had major physical disabilities that limited her ability to walk. Others are missing, but officials do not know whether those unaccounted for had left the area before the fire.
"These fires will take lives and they will cause injuries, and we have to do the best we can, because we are really in a battle with nature, that nature is more powerful than we are," California Governor Jerry Brown said. He declared a state of emergency to free up resources.
Residents fled Middletown, a town of more than 1,000 residents, dodging smouldering telephone poles, downed power lines and fallen trees as they drove through billowing smoke. "That whole place was ablaze. It was like Armageddon," Steve Johnson, a 37-year-old construction worker from Southern California who was visiting his mother in the fire-ravaged community of Hidden Valley Lake, told Reuters. "We were literally driving through the flames."
The fire exploded in size within hours as it chewed through brush and trees parched from four years of drought, destroying 400 homes, two apartment complexes and 10 businesses, Cal Fire spokeswoman Lynn Valentine said. By the morning of 14 September, fire crews had gained just five percent containment of the 95-square-mile (250sq km) blaze. Four firefighters who are members of a helicopter crew suffered second-degree burns during the initial attack on the fire. They remained in hospital in a stable condition.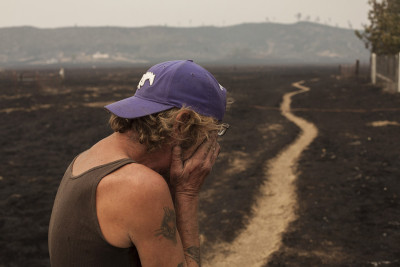 Meanwhile, Cal Fire reported that 81 homes and 51 outbuildings had been lost in the Butte Fire, which has charred more than 65,000 acres in the mountains east of Sacramento. Firefighters are battling nearly three dozen large blazes or clusters of fires in California and six other Western states, according to the National Interagency Fire Center in Boise, Idaho.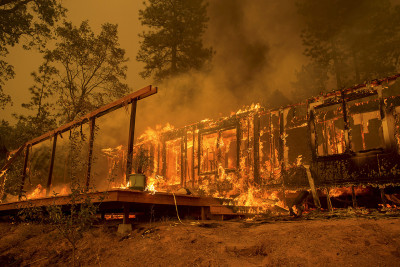 Mark Ghilarducci, of the Governor's Office of Emergency Services, said this summer's fires are the most volatile he has seen in 30 years of emergency response work. The main cause behind the fast-spreading fires is dry conditions from the drought.