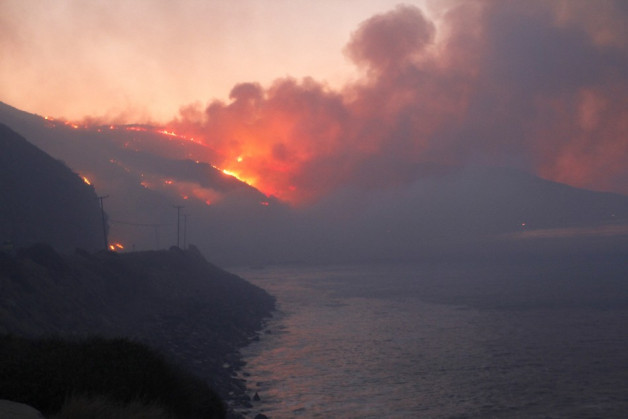 Thousands of homes are threatened as firefighters battle to control six wildfires raging along the California coast.
The so-called Springs Fire has forced a 30-mile stretch of the famous Pacific coast highway to close, and has reached an area to the north west of Los Angeles.
More than 900 fire fighters are struggling to bring it under control and have dropped water and retardants on the flames from the air while 200 homes have been evacuated.
Amongst those fearing for their homes is singer Britney Spears, whose Calabases home is close to the flames. The 31-year-old was seen racing down the freeway into a cloud of smoke in her white convertible Jaguar, The homes of other celebrities are also believed to be at risk, including Robert Pattinson who has reportedly moved into girlfriend Kristen Stewart's Malibu home.
By 2 a.m. local time the brush-fueled wildfire was within "seven or eight miles" of Malibu, Ventura County Fire Department spokesman Bill Nash said.
California State University on the Channel Islands has been closed since Friday, and all non-essential personnel have been ordered to stay home for a second day at the Point Mugu US naval base as the flames lick the edge of the firing range. A spokeswoman confirmed that no ammunition is being stored at the base.
The fire broke out on Friday morning in Camarillo, and razed down 43 square miles of wilderness as it reached the coast, the 45 mph wind then changed direction and the blaze spread back inland.
Ventura County fire spokesman Bill Nash called it the "worst-case weather scenario".
"In the perfect scenario we'd just hope for the wind to go away, but what happened is the wind just turned around,'' he said.
12 homes have so far been damaged by the fire, but no-one has been injured.
The wind is expected to die down at some point today and forecasters say there is the possibility of rainfall tomorrow.
So far this year there have been 680 wildfires in California, 200 incidents more than normal.
The latest fire has been fanned by the unseasonably late dry Santa Anna winds.
"This is a very, very strange weather pattern for this time of year," said another Ventura County fire spokesman, Tom Kruschke.
"We're seeing fires burning like we usually see in late summer, at the height of the fire season, and it's only May."
CNN meteorologist Chad Myers said that California has received only half of its rainfall over the last two years, making the undergrowth particularly dry.