British Prime Minister Theresa May's disastrous Conservative Party Conference speech saw her heckled by a prankster, suffer from an unrelenting cough and close on a bum note in front of a heavily-depleted slogan after the letter "F" fell off.
Now, the beleaguered PM has fallen foul of Calvin Harris. The Scottish DJ took issue with the Tories' choice of song for her entrance and expressed his disdain in a scathing tweet.
"Conservative party conference playing my song was not approved - I do not support nor condone happy songs being played at such a sad event," he told his 12.3 million followers.
It appears that 10 Downing Street had forgotten to get the green light from Harris' team to play This Is What You Came For − his 2016 collab with Rihanna − as May walked to the podium.
Bizarrely, he followed up his scolding message with some medical advice after watching her coughing fit. "Also cough plus grey complexion suggests liver cleanse needed - blood prob very dark - body trying to cleanse but lack of nutrients pls google," he offered.
The fallout from what may be the most calamitous conference speech in political history continued on social media with Florence Welch of Florence And The Machine also reprimanding the party for using her band's song You've Got The Love, saying it was "not approved by us nor would it have been had they asked."
The 31-year-old Indie star, who previously described herself as non-political, also urged her Conservative party to refrain from using our music in future. x."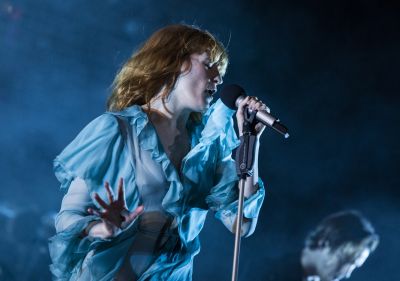 May wouldn't be the first politician to have a song choice backfire. In 2016, a number of singers objected to current president Donald Trump using their music at campaign rallies.
R.E.M frontman Michael Stipe did not mince his words, saying: "Go f*** yourselves, the lot of you – you sad, attention-grabbing, power-hungry little men. Do not use our music or my voice for your moronic charade of a campaign."
Aerosmith singer Steven Tyler also stopped Trump using the song Dream On and Adele's spokesman also warned him against associating himself with Adele's music.
Labour's decision to use Love Natural by the Crystal Fighters at the launch of the Labour manifesto in 2015 backfired when the band's drummer urged people to vote Green instead.
In 2005, the Tories used Everybody's Changing by the band Keane at rallies but soon realised they were out of tune because drummer Richard Hughes said he would not be voting for the party.