Kate Moss is without a doubt the most famous Calvin Klein poster girl, after stripping off back in 1992 alongside a not quite as young, but equally as brooding Marky Mark. The adverts were fresh, new and provocative and fitted perfectly into the new wave of waif model superstardom that came to define the early nineties.
Flash forward 24 years and Kate Moss has returned to the role of the Calvin Klein girl, or more appropriately, a Calvin Klein woman. Now 42, Moss proves that whilst the youthful innocence captured by Herb Ritts in the original ads may have gone, there is still room to be naughty with the huge cast of the latest campaign for the brand that features the likes of Bella Hadid, Grace Coddington, Zoe Kravitz and more.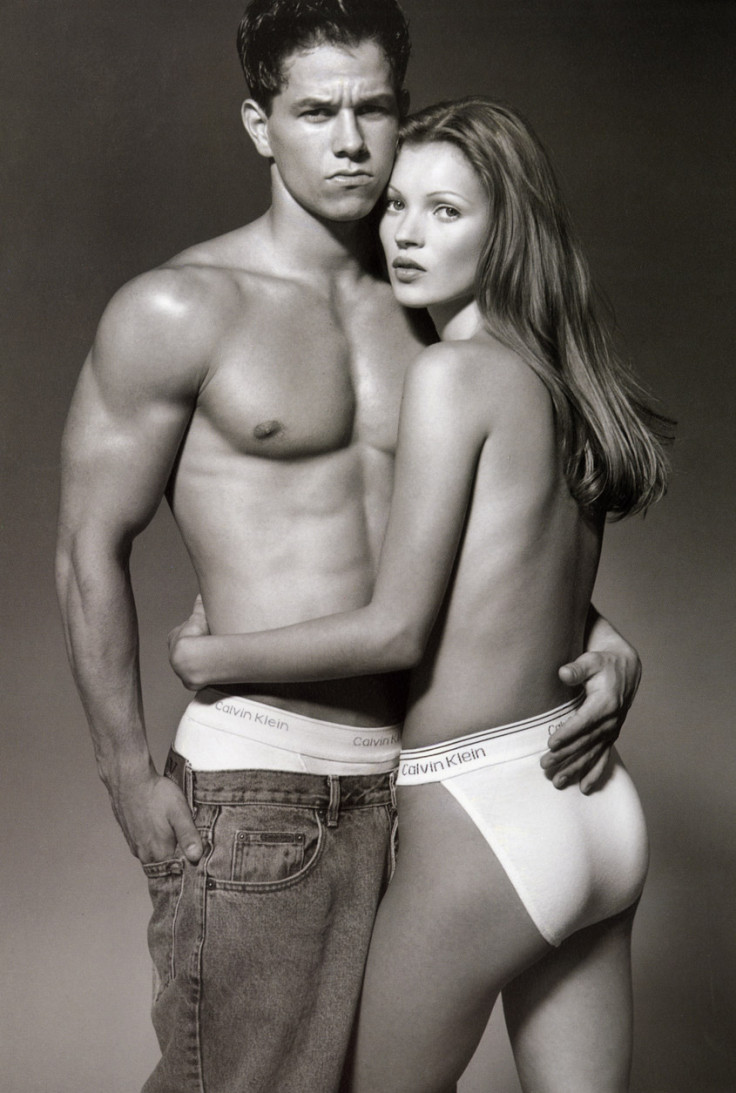 Relaxed and elegant, Moss reclines on a chair in a loose cardigan with the line: "I look back in #mycalvins" a fitting statement from one of the brand's most iconic models. Interestingly she is not credited as a model though, but an icon.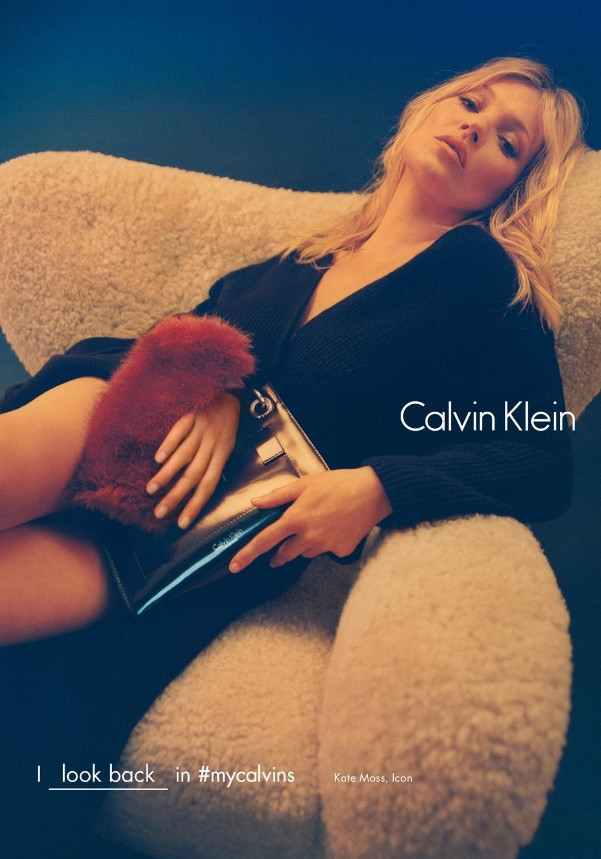 In a separate teaser, Kate answers questions about life and love, something the once shy model would never have done.
When asked what she thought romantic love was about, she replies simply "diamonds", but admits she has had her heart broken a lot. The mature Mossy is as sexy as she ever was but the innocence has long disappeared.
Reprising Moss' previous part as the topless ingenue is model-of-the-moment Bella Hadid who happily rolls around provocatively in just a pair of Calvin Klein briefs as well as posing against a wall in a matching underwear set.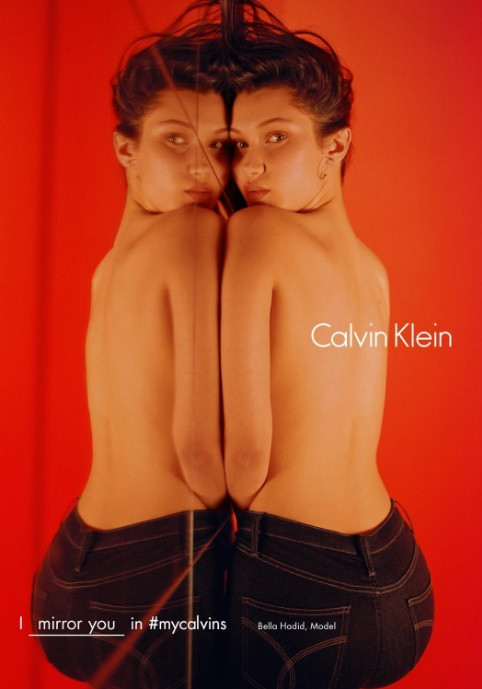 Hadid looks far older than her 19 years and certainly less shocking than the once topless Moss, but perhaps that is just what we are used to; seeing young models cavorting around in next to nothing these days. The new bold logo form-fitting bra and briefs have the same powerful look as the originals as Bella announces: "I intimidate in her #Calvins". The new look is to show power and the nineties adverts never portrayed this in their female models. The new Calvin girl is a force to be reckoned with.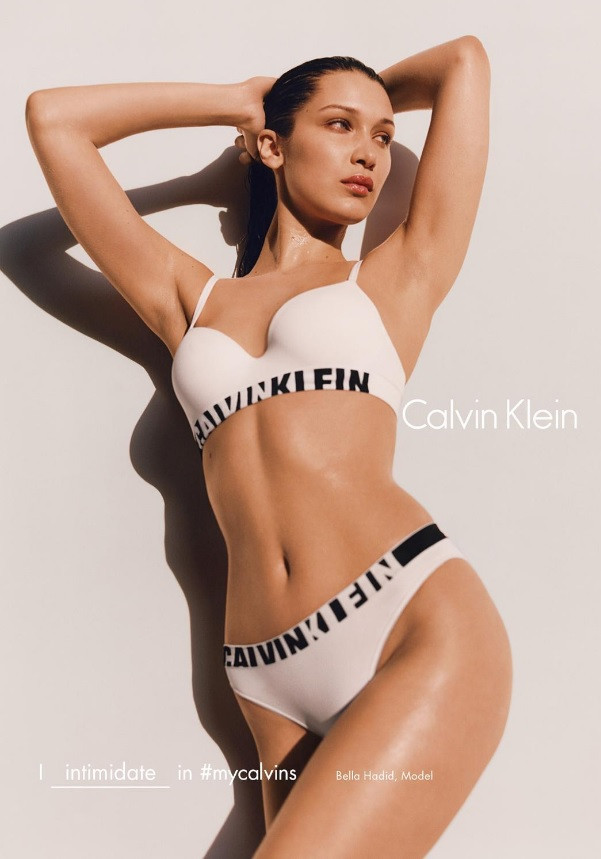 The latest advertisement features 29 shots created by photographer and filmmaker Tyrone Lebon, who also shot the previous campaigns.
The flashing images feature a veritable who's who of music, film and fashion with a star-studded cast including Kate Moss, Grace Coddington, Cameron Dallas, Frank Ocean, Margot Robbie, Young Thug, James Rodriguez, Zoe Kravitz, Lola Kirke, Henry Rollins, G.E.M., Mo'ne Davis, Sonoya Mizuno, Yung Beef, Antoine-Olivier Pilon, Aomi Muyock, Cuba Tornado Scott, Selah Marley, Kacy Hill, Keith Ape, Presley Walker Gerber, Anna Ewers, Mark Maceachen and Roos Abels, Tommy Genesis, Yung Lean and more.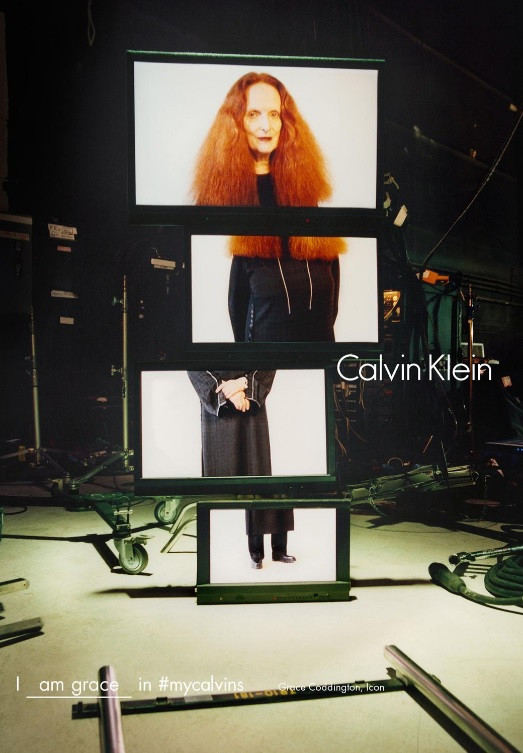 Grace Coddington's shots are edgy and directional with the fashion icon's image split up between various monitors as she models the brand's ready-to-wear collection.
Melisa Goldie, Chief Marketing Officer of Calvin Klein, Inc. released a statement on the brand's latest direction: "Through our Fall 2016 global campaign, we push the boundaries of traditional advertising with our content and our cast. We are inviting the consumer into our world to experience personal storytelling that no other brand can offer them."
She added: "Our approach is digital-first, video-led and socially powered, providing our audience with an authentic and intimate experience that they can consume and share."
The new Calvin Klein crew come from all walks of life with street cast models, rappers and artists as well as Insta-favourites like Kendall Jenner and Justine Beiber who have taken their turn in their underwear as well.
Whilst the new ads may be edgy and directional they do not have the shock factor that the original campaigns had but either way, it is great to see Moss back doing what she does best.