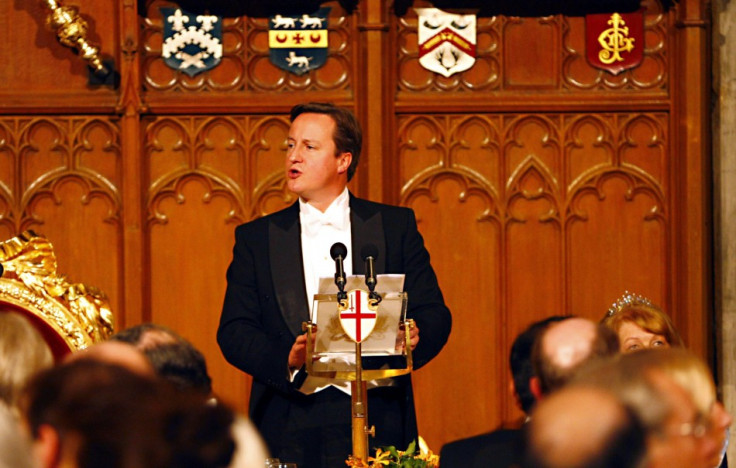 David Cameron has denied claims that he had established "a new British doctrine for intervention" with the involvement of UK forces in Libya.
In his annual setpiece foreign affairs speech to the Lord Mayor of London's banquet, the Prime Minister insisted that the UK would not simply "charge in regardless" in the event of future overseas crises.
"Look at the reasons for the success of the Libya campaign. We set limited goals and stuck to them. We worked with allies. We went through the United Nations. We had the support of the people," he said.
Defending his decision to commit British forces, the Cameron said: "We saved civilian lives as Gaddafi's tanks bore down on Benghazi. We helped the Libyan people to liberate themselves," he said. "I would argue that our action helped keep the Arab Spring alive."
He added: "It's also worth noting that although Gaddafi agreed to declare and dismantle all his weapons of mass destruction and although we made real progress diminishing the threat he posed in the last few days we have learnt that the new Libyan authorities have found chemical weapons that were kept hidden from the world."
Earlier this month the Organisation for the Prohibition of Chemical Weapons disclosed that its inspectors had discovered a stockpile of undestroyed sulphur mustard and chemical precursors at a depot in Ruwagha while the new Libyan authorities had found further stocks of what were believed to be chemical weapons.
Cameron also used his speech to highlight the need for concerted international action to tackle the continuing instability in Somalia.
"Somalia is a failed state that directly threatens British interests. Tourists and aid workers kidnapped. Young British minds poisoned by radicalism. Mass migration. Vital trade routes disrupted," he said.
"Meanwhile Somalis themselves suffer extreme famine, made worse by violence and some of the worst poverty on earth. We shouldn't tolerate this."
With Britain due to host a major conference on Somalia next year, Cameron said there was "a real and pressing need to pull together the international effort".