David Cameron has succeeded in forcing EU leaders to vote on the appointment of Jean-Claude Juncker as the new Brussels Commission president at a summit later this week.
The announcement came from 10 Downing Street after the prime minister met the president of the European council, Herman Van Rompuy, in No 10 ahead of the crunch summit.
In what was described as a "full and frank" meeting, the prime minister is said to have repeated his pledge to fight the appointment of the arch-federalist Juncker "to the end".
He demanded an unprecedented vote of all 28 EU states and Van Rompuy will now have to work out the logistics for that.
Cameron's insistence on forcing a vote is a clear attempt to flush out those other leaders he believes are privately opposed to Juncker but are unwilling to say so in public.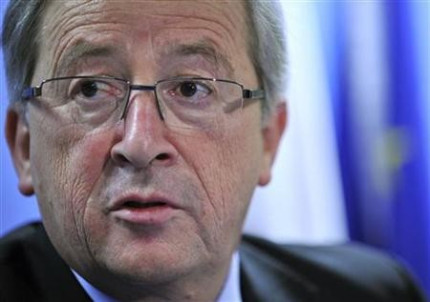 "I know there are many other heads of state and governments in Europe who don't like this process that has come about, who don't think that this is the right person to lead reform in Europe," he said before the meeting.
"I'm going to do what I said I would do and oppose this process and oppose this person. Other people will have to make up their mind whether to do what their heart and head tell them or not."
However, with key players such as Germany's Angela Merkel and the European parliament all backing Juncker, the vote is unlikely to change the outcome and will be seen as needlessly divisive.
It is bound to further anger other leaders who have already been showing irritation at Cameron's vocal campaigning.
It has even been reported that a senior minister in Poland, normally seen as a British ally, has launched a blistering, expletive-ridden attack on Cameron over his "incompetent" handling of the negotiations.
The prime minister's spokesperson said she was unaware of the incident and repeated that: "It is for national leaders to stand up for their country's interests. That is what the Prime Minister is doing."
She also refused to rule out suggestions Cameron could lead a campaign for withdrawal from the EU in his planned 2017 referendum if he failed to get his way.
"What EU leaders need to realise is that UK voters at the referendum will be looking at the decisions Brussels and the EU have taken in the two and a half years before it," she said.
That is another threat that is only likely to infuriate the rest of the EU, particularly as few are likely to believe the prime minister would go through with it.
The scene is now set for a hugely divisive, potentially bad-tempered summit in Brussels this week, with Cameron still failing to get his way.
But it seems he has decided that he has won some admirers on his backbenches for his tough stance towards the EU and is ready to go down all guns blazing so he can return from his failed mission at least claiming he had done everything in his power.
That has the downside of allowing his detractors to claim it only proved that he does not have enough power in the EU.
It could also store up trouble for Britain in the long run when Commission portfolios are decided and when it comes to the negotiations over the replacement for Van Rompuy, who will stand down from his hugely powerful job in November.