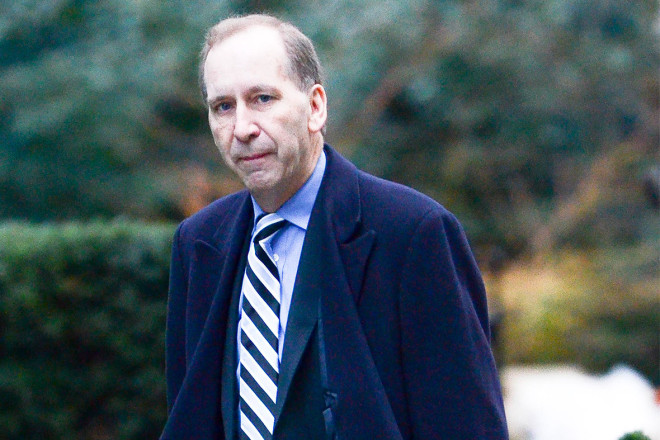 A senior civil servant who advised the Prime Minister on internet porn filters has been arrested on allegations of possessing images of child abuse.
Patrick Rock, 62, who has been an adviser to the Conservative party for 30 years, quit his post as deputy head of the Downing Street policy unit on 12 February, a day before being arrested.
Officers from the National Crime Agency searched Downing Street's IT system and Rock's Number 10 office.
Dubbed David Cameron's policy 'fixer', Rock played a key role in several policies - including the Prime Minister's flagship to introduce internet porn filters on computers.
A Downing Street spokesman said: "On the evening of February 12, Downing Street was first made aware of a potential offence relating to child abuse imagery. It was immediately referred to the National Crime Agency.
"The Prime Minister was immediately informed and kept updated throughout. Patrick Rock was arrested at his home in the early hours of February 13, a few hours after Downing Street had reported the matter.
"Subsequently, we arranged for officers to come into No 10 and have access to all IT systems and offices they considered relevant.
"This is an ongoing investigation so it would not be appropriate to comment further, but the Prime Minister believes that child abuse imagery is abhorrent and that anyone involved with it should be properly dealt with under the law."
Rock had failed four times to become a MP - one of the most memorable occasions was when he narrowly lost the Portsmouth South seat to the Liberal SDP Alliance in the 1984 by-election. The seat previously held a Tory majority of over 12,000. Rock had also been tipped to become a peer.
In January 2013 Rock hit the headlines when he was photographed openly carrying a document branded by Labour leader Ed Miliband as an 'audit of coalition broken promises'. It listed the targets the Coalition had missed ahead of the official Mid-Term review.
Colleagues have described his arrest as a 'terrific shock'.