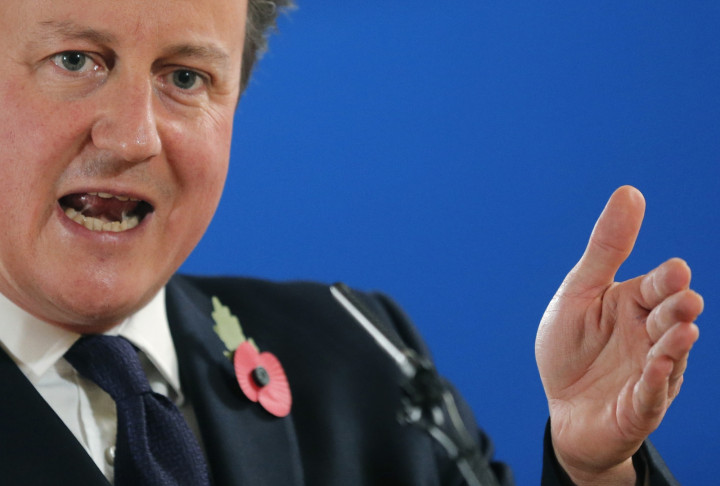 Prime Minister David Cameron has told Britain that the country must stand up for its values against Russia and The Islamic State (Isis) amid claims that the West is on the cusp of a Cold War with Russia.
Cameron, speaking at the Lord Mayor's banquet, also said Russia is "violating territorial integrity" by its annexing of Crimea but insisted that Britain was not seeking a Cold War with the country.
"They [Russia] are ripping up the international rulebook and disregarding the democratic will of the Ukrainian people to determine their own future," said Cameron.
"There will be those who say that this isn't our business and that we shouldn't interfere. And some will argue that we can't - that we have no influence to bear. But I believe both views are wrong.
"I don't believe there is a military solution. But that is not the only tool available to us. Economic sanctions on Russia are having an impact. Capital has flown out of Russia, banks are short of finance, and the Russian stock market and Rouble have fallen significantly.
"But I will also be clear, that if Russia continues on its current path, then we will keep upping the pressure and Russia's relationship with the rest of the world will be radically different in the future."
Former Soviet president Mikhail Gorbachev has warned that the world is "on the brink of a new cold war".
Russia and the West are teetering on the edge of a second Cold War as the number of dangerous or sensitive military encounters have jumped to levels last seen pre-1991.
According to the Dangerous Brinkmanship by the European Leadership Network report, 40 dangerous or sensitive incidents recorded in the past eight months alone across a series of "highly-disturbing" incidents.
When it comes to the militant Islamist group IS, Cameron said Britain had a fundamental duty to intervene due to the scope and scale of its occupation.
"The scale of this threat is formidable. In the space of a few months IS has taken control of territory which is greater than the size of Britain, and is backed by millions of dollars and an arsenal of the most modern weapons.
"It would be completely wrong to think that we could entirely subcontract the task of protecting the streets of Britain to the air forces of our allies."
But he also said that he understood the view that after a "damaging recession and long and difficult conflicts in Iraq and Afghanistan" the UK should avoid "sending armies to fight and occupy".