David Cameron has stunned Westminster with a brutal cabinet clear-out that has seen senior ministers, led by foreign secretary William Hague, reshuffled or sacked to make way for a fresh new team to drive the Tories to the general election.
In a wide-ranging shakeup which has been compared to Harold Macmillan's 1962 "night of the long knives", the prime minister sacked or moved a dozen ministers, including veteran Ken Clarke. The roles will largely be filled by a group of young women.
Westminster had been expecting some big changes as it was claimed Cameron wanted to rid the cabinet of the "male, pale and stale" image which he believed was holding it back from connecting with younger and particularly female voters.
He had been widely criticised of late for having a "women problem" and failing to live up to his promise of bringing more females into his top team.
But no one had suspected the size or brutality of the reshuffle, which represented early gains for the right-wing, Eurosceptic group in the Tory party.
They will be happy to see the back of arch-Europhile Clarke, retiring after 44 years, and the likely replacement of Hague with current defence secretary Philip Hammond who has previously said he would be ready to quit the EU.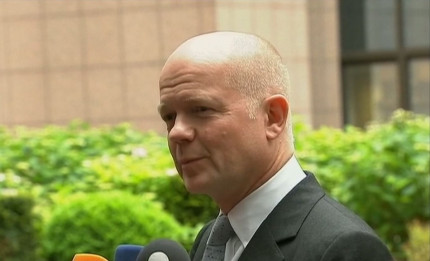 They also welcomed the removal of attorney general Dominic Grieve, a decision which has been seen as paving the way for a replacement who could back UK withdrawal from the European Court of Human Rights.
They were less happy over the sacking of "their man" Owen Paterson from his job as environment secretary.
Some of the women tipped for promotion include current ministers Esther McVey, Liz Truss, Nicky Morgan and Anna Soubry, although there are likely to be a dozen in total.
Labour immediately branded the reshuffle a "massacre of the moderates" with shadow minister Michael Dugher saying it showed the prime minister was "running scared of his own right wing".
The biggest surprise was certainly the announcement that Hague was quitting his job before standing down as an MP after 26 years at the next election, and had informed Cameron of his intention some months ago.
No one had seen the move coming, although he had often appeared less engaged of late, leading to some speculation the former party leader might decide not to run in 2015.
He had not campaigned for a return to cabinet after he stood down as party leader after losing the 2001 election, but became one of the most senior and respected of Cameron's top team after being persuaded to return to the front line.
He will stay on as Commons leader and will also be specifically tasked with leading the Tory party's grass roots campaigning between now and the 2015 poll.
His job is expected to be taken by millionaire Hammond, a right-wing Eurosceptic whose appointment will be seen as strengthening the government's stance ahead of the planned renegotiations over Britain's relationship with the EU.
Hammond has previously said he would be prepared to vote for withdrawal from the EU if Britain didn't get significant changes, a far tougher line than Hague ever took.
Key veterans including 74-year-old former chancellor Clarke, who has held office in every Tory government since 1972, and chief whip Sir George Young had already decided to stand aside to make room for fresh faces, but another swathe of ministers were sacked.
They included attorney general Grieve, police minister Damian Green, universities minister David Willetts, environment secretary Paterson and Welsh secretary David Jones.
Other middle-ranking ministers were also removed in what was by far the biggest reshuffle of Cameron's premiership.
It was known Cameron intended to use the last big reshuffle before the general election to freshen his team and address his so-called "women problem". Unlike previous shakeups, a number of cabinet level changes were expected.
But the extent of the moves announced late on Monday night took Westminster by surprise and led to worries that, by creating such a headline-grabbing reshuffle, the government risks being packed with young ministers lacking experience.
That could mean some early errors and there will be plenty on the government benches worried that the driving force behind the changes is primarily image rather than talent or experience.
And, it has been pointed out, Macmillan's "night of the long knives" proved a disaster as it was widely seen as a sign of panic and a way of propping up his own leadership.