Camilla Duchess of Cornwall joined Roald Dahl's youngest daughter Lucy Dahl on Tuesday (12 July) to be presented with her very own BFG Dream Jar designed by the renowned art director Michael Howells.
The six foot jar that contains a sculpture designed to reflect the Duchess's own dream of sharing the magic of books with the children of the world was unveiled in St James' Park.
Inspiration for the Dream Jars came from those used by the Big Friendly Giant, the eponymous hero in Roald Dahl's 1982 children's book, who bottled dreams and blew them into children's bedrooms.
To coincide with the release of the film version of The BFG on 22 July, 50 specially designed Dream Jars are being put on display throughout London and the rest of the UK as part of the BFG Dream Jar Trail.
Dressed sensibly for the weather, the Duchess, 68, braved the drizzle in a fawn coloured trench coat and white skirt and cropped jacket with three-quarter-length sleeves that were co-ordinated with rounded court shoes. Camilla sported the same outfit at the Royal Norfolk Show last month.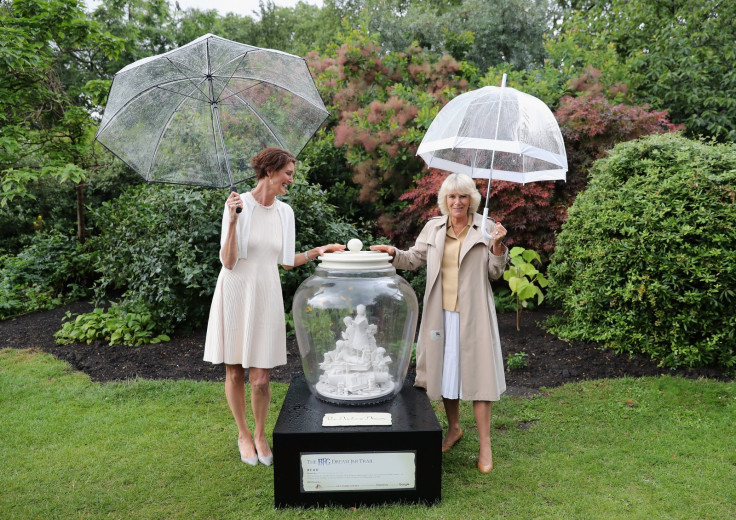 The pair were joined by nurses and children from Roald Dahl's Marvellous Children's Charity, who the jars will eventually be auctioned off to raise money for. The charity ensures that unsupported children with disabilities and serious illnesses (from birth to 21) are treated with care, love and respect, and are given a strong support network.
Each jar contains the childhood dream of a chosen celebrity or royal, with the likes of Steven Spielberg, Quentin Blake, Sophie Countess of Wessex and Dame Helen Mirren joining Camilla in designing one of the six-foot creations.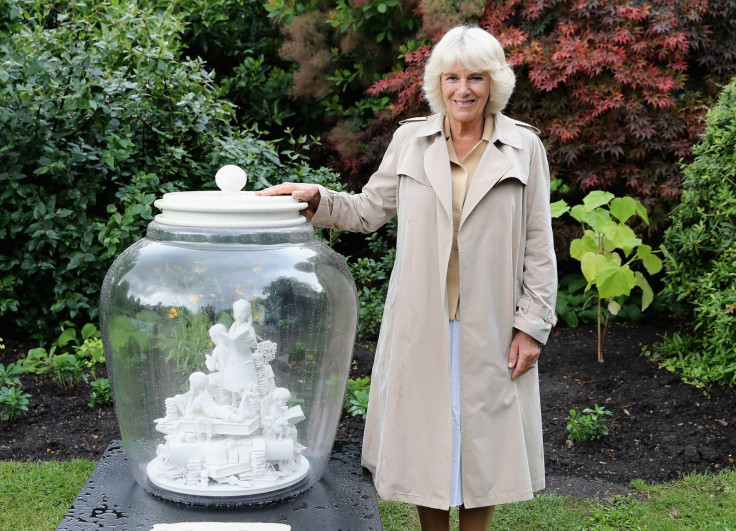 The licensing company Entertainment One, who looks after The BFG, also partnered up with Google and global media agency Zenith to use the recently launched Nearby Notifications service from Google to alert passers-by when they are near to a jar.
When Android users have Bluetooth switched on they will be notified when they are 15 metres or less away from a jar and Apple users can get the same content by opening Google Maps or Google Now when they are close to one of the sculptures.
Kezia Williams, head of theatrical distribution at Entertainment One UK, said: "The BFG Dream Jar Trail is a hugely exciting initiative. Not only does it offer the perfect way for us to engage with the audiences ahead of the film's launch, but it also presents a fantastic opportunity to make use of innovative technology to offer consumers a wealth of digital content."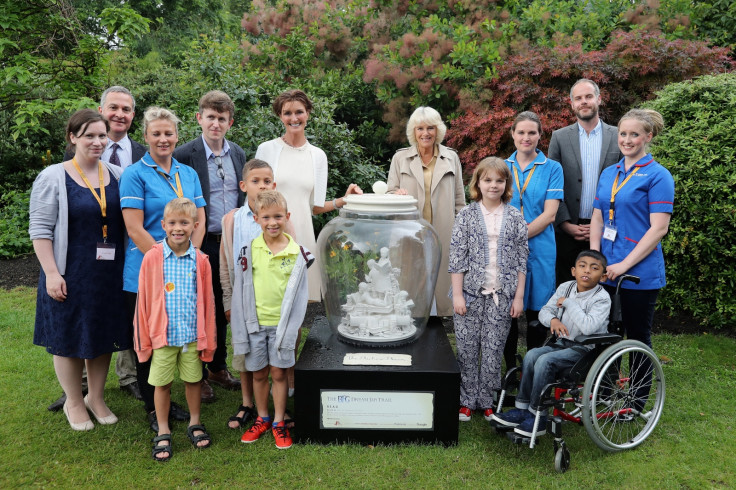 The jar installations will be on display until the 31 August in locations all over London, including Trafalgar Square, St James Park and the Emirates Stadium.
Following the Dream Jar Trail, each design will be auctioned off, with the proceeds going to Save The Children and Roald Dahl's Marvellous Children's Charity.