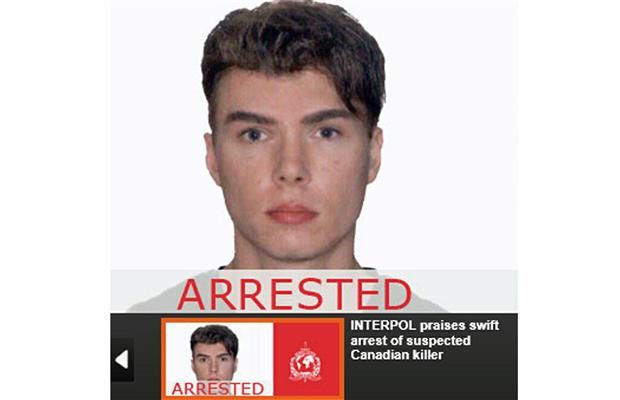 Canadian porn star Luka Magnotta was sentenced to life for killing and cutting up his Chinese lover, Jun Lin.
Magnotta was found guilty of first-degree murder over the death of engineering student Jun Lin.
The 32-year-old admitted killing Lin in 2012 and was claiming insanity. His lawyer said Magnotta was schizophrenic and couldn't tell right from wrong at the time of the murder.
The prosecution said the crime was planned and deliberate and that the porn star's behaviour was not that of an insane person. However, the jury rejected defence arguments that Magnotta was suffering a psychotic episode at the time of the killing.
Prosecutor Louis Bouthillier said: "I thought we had good evidence of premeditation.
"There was never a doubt the jury would find Magnotta guilty of first-degree murder."
The male escort showed no emotion and only lowered his eyes as the verdicts on each of the five charges were read out.
Magnotta was also convicted on the four other charges: criminally harassing Canadian Prime Minister Stephen Harper and other members of Parliament; mailing obscene and indecent material; committing an indignity to a body and publishing obscene materials.
A vital piece of evidence during the trial was an email Magnotta sent to a British reporter six months before the murder.
Journalist Alex West asked Magnotta in London during December 2011 about cat killing videos he had made online.
Magnotta replied with an email that said cats were just the start.
"Next time you hear from me it will be in a movie I am producing, that will have some humans in it...", Magnotta wrote in an email sent on 10 December.
Later in the message, he added: "Once you kill, and taste blood, it's impossible to stop. The urge is just too strong not to continue."
Gruesome details of the murder came to light when body parts began arriving at the offices of Canada's political parties. In May 2012, a package containing a severed foot was found at the headquarters of Canada's ruling Conservative party.
The same day, a hand was found at a postal facility in a package addressed to the country's Liberal Party.
A video also appeared online that prosecutors say shows Magnotta stabbing and having sex with the corpse.
Mr Lin's torso was discovered in a suitcase at a rubbish dump outside Magnotta's apartment building in Montreal.
The jury sat through 10 weeks of graphic testimony. Lin, 33, a Chinese national, was studying at Montreal's Concordia University when he met Magnotta.
According to Magnotta, Lin responded to an ad Magnotta posted on Craigslist looking for kinky sex.
Lin's father, Diran Lin, travelled from China to Montreal for the trial.
After the verdicts a lawyer read out an impact statement on his behalf. "I had come to see your trial system to see justice done and I leave satisfied that you have not let my son down," Daniel Urbas said.
"I had come to see remorse, to hear some form of apology, and I leave without anything."