Journalists and photographers have been allowed into the Canadian city of Fort McMurray for the first time since a raging wildfire swept through it. Their photos show scenes of utter devastation, with homes levelled to the ground and street after street reduced to nothing more than blackened foundations. Burnt-out vehicles sit on melted tyres, with streams of once-molten metal snaking out from them.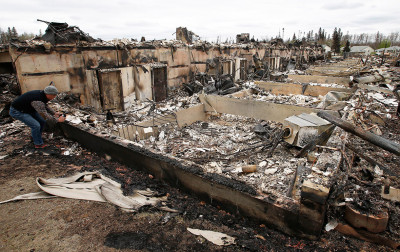 The Beacon Hill, Waterways and Abasand neighbourhoods were particularly hard hit. But the fire blazed a capricious trail. Swathes of homes were burned to the ground, while other nearby areas were unscathed.
The wider picture was more optimistic. Fire chief Darby Allen said 85% of the city remains intact, including the downtown district. Alberta premier Rachel Notley said about 2,400 homes and buildings were destroyed in the city, but firefighters managed to save 25,000 others, including the hospital, municipal buildings and every functioning school.
The wildfire forced the evacuation of the entire city. Some 88,000 residents fled on the one highway that leads into the remote community in northern Alberta. No deaths or injuries have been reported from the fire itself. But Notley said two evacuees died in a traffic accident during the evacuation.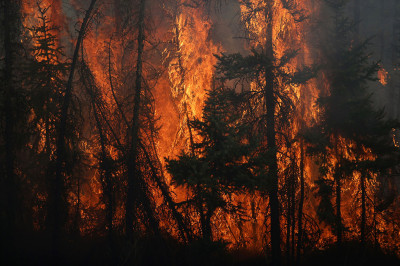 The fire broke out southwest of the city on Sunday 1 May and appeared to be on its way to being neutralised by the Tuesday, but it overwhelmed firefighters when winds shifted quickly and drastically in the mid-afternoon to the southwest of the city. Fire officials said the blaze was still large, growing and dangerous. But they noted cooler weather had slowed the fire's spread and would help in the coming days. High temperatures and winds accelerated the blaze last week.