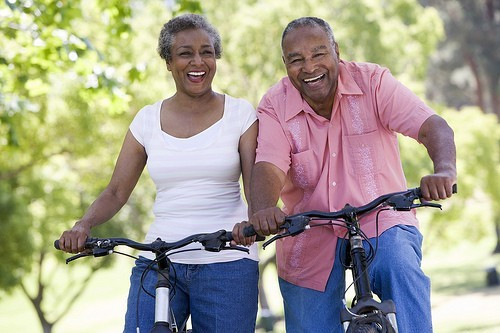 Cancer patients could significantly increase their chance of survival by taking part in regular exercise during and after their treatment, according to a report from Macmillan Cancer Support.
The report, entitled Move Move, assesses the link between cancer patient survival rates and exercise. It found that breast cancer patients can reduce the risk of dying from the disease or suffering from recurrence by 40 percent if they partake in 150 hours a week of physical exercise.
The same amount of exercise could reduce prostate cancer patient's risk of dying from the disease or suffering from recurrence by 30 percent, the report added.
For bowel cancer patients, this figure could rise to 50 percent for those who engage in 6 hours a week of physical activity at "moderate intensity" compared with those that are doing less than one hour a week.
Exercise can also help all cancer patients reduce the risk of developing fatigue, depression, osteoporosis and heart disease as side effects to their treatment, the report said.
"The advice that I would have previously have given to one of my patients would have been to 'take it easy'," said Jane Maher, chief medical officer of Macmillan Cancer Support. "This has now changed significantly because of the recognition that if physical exercise were a drug, it would be hitting the headlines.
"There really needs to be a cultural change, so that health professionals see physical activity as an integral part of cancer after care, not just a optional add-on."
Macmillan have backed the Department of Health's guideline of 150 minutes of moderate activity a week for most cancer survivors. However, a study carried out by the charity revealed that only about 40 percent of GPs and oncology nurses know the recommendation and over half did not speak to patients about the benefits of taking exercise.
"It is essential that physical activity services are available and 'prescribed' to all patients who would be shocked if they knew how much of a benefit physical activity could have on their recovery and long-term health," said Ciaran Devane, Macmillan chief executive.
Follow Joe Rennison on Twitter here.
E-mail your story ideas to j.rennison@ibtimes.co.uk