Canelo Alvarez expects Amir Khan will mirror Floyd Mayweather tactics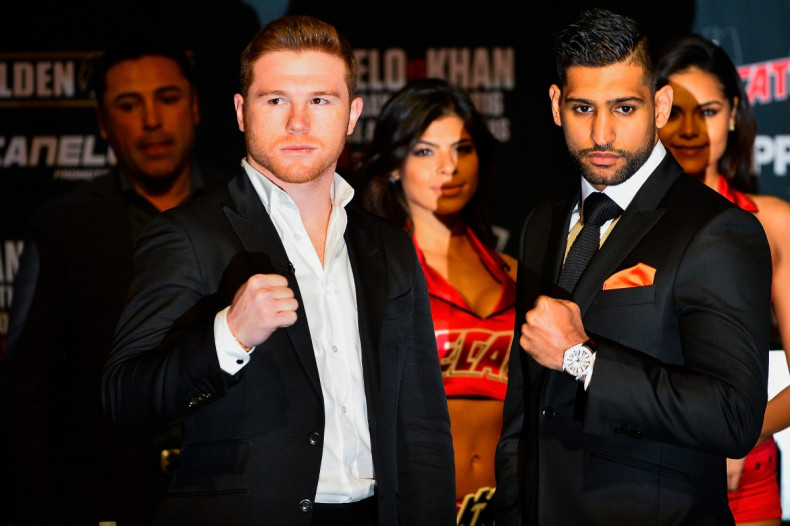 Saul "Canelo" Alvarez believes Amir Khan will attempt to cause a shock in the pair's WBC middleweight title fight by adopting tactics similar to Floyd Mayweather Jr – the only fighter to have defeated the Mexican in his 48-fight career. The now retired Mayweather claimed victory by a majority decision in September 2013 with a performance which combined unmatchable speed and expertly timed counter-punching.
The defeat represents the only loss of Alvarez's career to date, with a four-fight winning run – which has included prevailing over Erislandy Lara and Miguel Cotto to reach the summit of the middleweight division – setting up a meeting with Khan next month. Though the Briton has yet to reach the heights soared by the unbeaten Mayweather, his agility and power has often seen him compared to the former five-division world champion.
With the bout being fought at 155lbs, Alvarez will hold the natural weight advantage over Khan but the Olympic silver medallist will possess the greater athleticism. But 25-year-old is prepared for every eventuality and is unperturbed by the prospect of Khan attempting to repeat Mayweather's performance from three years ago.
"Every fighter is different, every fighter brings different skills and you have to adjust for that," he said less than two weeks ahead of the Las Vegas fight. "For Amir, we have focused on increasing my hand speed, counter-punching and preparing for lots of movement and footwork.
"We believe Amir will adopt a similar style to Floyd Mayweather Jr and Erislandy Lara; however, we have made sure that I am prepared for that style of boxing and anything he brings to the table to not be surprised on fight night. I can't predict a definite outcome, but I can say that I am going to bring the best of me in the ring."