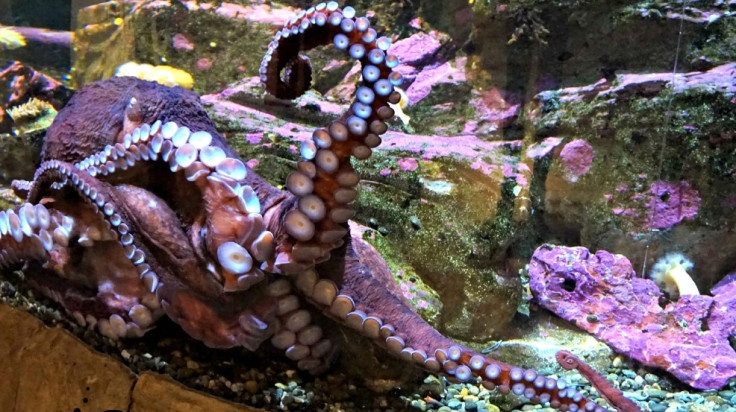 The mesmerizing coupling of a giant Pacific male octopus and its mate has made hearts pound on Valentine's Day at the Seattle Aquarium for nearly a decade. But the event was scuttled this year because of fears that the big male would end up eating his petite lady love.
The highlight of Octopus Week is usually a creature feature "blind date," in which two Cephalopods are brought together to mate in front of a large audience.
"A blind date is a blind date, and you never know how it's going to go," Tim Carpenter, the aquarium's curator of fish and invertebrates, quipped to Crosscut. Sometimes the two go at it immediately. Other times they could care less.
But this year, the male octopus fished from Puget Sound for the event and named "Kong" weighed in at 70 pounds (32kg), almost twice the size of any of the females that the handlers could find. "There's a chance he would see her as food," said Carpenter.
Actually, it works out better for Kong. The creatures are "terminal breeders," meaning male and females die shortly after mating. They usually live only three or four years, and mate at the end of their lives, though females survive long enough to see their eggs hatch.
Kong had to content himself with a human (male) diver who swam around with him in his tank for Valentine's Day. He's being released in Puget Sound, where a future mate will have to take her chances at having a future.
It's not the first time the aquarium has had to deal with a violent octopus. Ten years ago one of the aquarium's Cephalopods was filmed in an astonishing scene killing a shark.