It's been nine whole months since Marvel Studios announced that Oscar winner Brie Larson would play Carol Danvers aka Captain Marvel in its upcoming standalone film about the comic book superhero. Now, the movie has finally found its directors; Anna Boden and Ryan Fleck.
Best known for helming titles such as sport-based Sugar, Half Nelson starring Ryan Gosling and gambling drama Mississippi Grind with Ben Mendelsohn and Ryan Reynolds, the pair are more used to independent pictures – so this will certainly be a creative change for them both. Having also worked on television series The Affair and Billions, Marvel reportedly believe that the duo's experience in both mediums is a "strength."
Variety reporter Justin Kroll took to Twitter to add that both Boden and Fleck had "met with Marvel several times over the past couple months before getting offer last week" and that before they accepted Marti Noxon and Rough Night's Lucia Aniello were considered. It's worth noting however that according to his official report, Marvel has not officially commented on the decision, which is rather unusual for the typically-involved studio.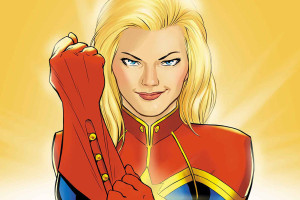 Adopting the Captain Marvel mantle in 2012 – having been known by the moniker Ms Marvel since her 1977 conception – Danvers possesses the powers of superhuman strength, flight, fortune-telling abilities and is resistant to most toxins and poisons. On top of it all, she's highly-skilled in espionage.
Back in October, Marvel Studios president Kevin Feige clarified why it was taking such a long time for them to decide on a director... or two. "We're trying to get a little more of the story set before we bring a filmmaker on so we can talk about the story [with them]," he told IGN.
The screenplay is currently set to be written by Inside Out writer Meg LeFauve and Guardians of the Galaxy co-writer Nicole Perlman.
Captain Marvel is scheduled to reach both UK and US cinemas on 8 March 2019.