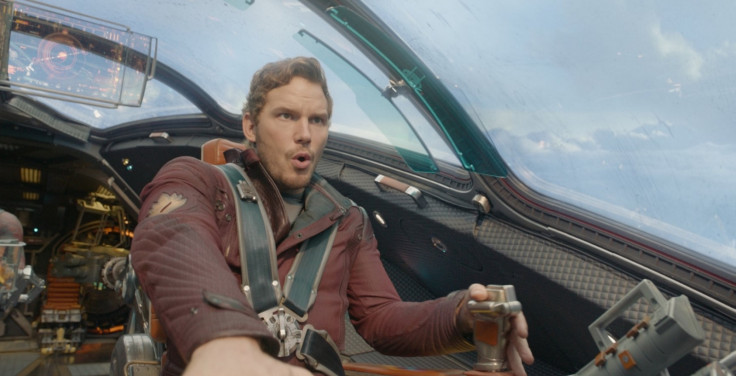 Guardians Of The Galaxy had it's fair share of villains, what with Ronan (Lee Pace), Nebula (Karen Gillan), The Collector (Benicio del Toro) and even ultimate Marvel Cinematic Universe big bad Thanos giving the unlikely bunch of heroes a hard time. Now, it looks like there will be multiple foes for Peter Quill and the rest of the gang to take on in Vol. 2 too... if the recently-released concept art is anything to go by that is.
The new image sees Star-Lord (played in the movie by Chris Pratt), Gamora (Zoe Saldana), Drax (Dave Bautista) and Rocket (Bradley Cooper) all battling a humongous, galactic creature - which is arguably a lot more "alien-like" than things we saw in the previous movie – right in the middle of space. Vin Diesel's adorable Baby Groot doesn't look quite so invested in the bottom right hand corner however, but his expression certainly adds that well-loved GOTG humour to the artwork!
While this unnamed, tooth-filled monster might be a temporary foe that the Guardians will have to fight in the eagerly-anticipated sequel, they're also going to find themselves up against Elizabeth Debicki's Ayesha, who director James Gunn describes as "a woman [not] to be screwed with," and a little-known comic book baddie. "There's a mutiny and Taserface (Chris Sullivan) is a character that leads that," he revealed previously to Empire. Michael Rooker's Yondu will also be present in the film, alongside his Ravagers, however he's much more of a thorn in Quill's side rather than an out-and-out villain.
Also starring Glenn Close as Nova Prime, Nathan Fillion (reportedly starring as Simon Williams aka Wonder Man), Pom Klementieff as Mantis and Kurt Russell as Ego the Living Planet, Guardians Of The Galaxy Vol. 2 is currently scheduled for a UK release in cinemas on 28 April 2017 and 5 May in the US.
For more entertainment news follow A-List on Twitter @Alistinsider