One month after the announcement that Brie Larson was officially attached to Captain Marvel, the studio is honing in on directors to helm the female-led project, starring the Oscar-winning Room actress.
According to The Hollywood Reporter, Marvel Studios has narrowed down a shortlist: Lesli Linka Glatter, Niki Caro and Lorene Scafaria.
Known best for her work in television, Glatter's past credits include True Blood, Mad Men, ER and most recently Ray Donovan. She has also directed a number of episodes for hugely-popular crime series Homeland.
Alternatively, Caro concentrates mainly on full-length features, having written and helmed 2002's Whale Rider as well as directing Charlize Theron in sexual harassment drama, North Country.
Like Caro, Scafaria broke into the industry as a writer, with Nick and Norah's Infinite Playlist. She made her directorial film debut with Seeking a Friend for the End of the World, starring Steve Carell and Keira Knightley.
The three 'finalists' allegedly beat out the likes of Jennifer Kent, who made her directorial debut with indie horror gem The Babadook back in 2014, and Kung Fu Panda veteran Jennifer Yuh. Back in May, reports emerged that White Girl director Elizabeth Wood was also in the running.
While they've narrowed things down significantly, it's unlikely that Marvel will decide on a definite director soon – the film isn't scheduled to hit cinemas until 2019. The movie will mark the first time the comic book character will be seen on the big screen and, while the hero has had many alter-egos throughout the literature, Marvel are focusing on the latest; human-Kree hybrid Carol Danvers.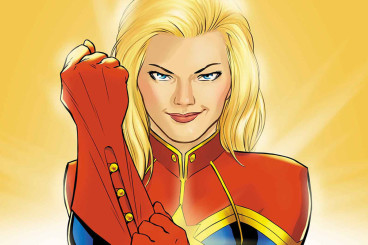 Adopting the Captain Marvel mantle in 2012 – having been known by the moniker Ms Marvel since her 1977 conception – Danvers possesses the powers of superhuman strength, flight, fortune-telling abilities and is resistant to most toxins and poisons. On top of it all, she's highly-skilled in espionage.
The screenplay is currently set to be written by Inside Out writer Meg LeFauvre and Guardians of the Galaxy co-writer Nicole Perlman, and Captain Marvel is scheduled to reach US cinemas on 8 March 2019.
For more entertainment news follow A-List on Twitter @Alistinsider