La La Land isn't due in cinemas for a good few months but it already has a strong buzz around it. The basis of which undoubtedly lies in Ryan Gosling and Emma Stone reuniting for the third time since their sizzling onscreen chemistry reigned in Crazy Stupid Love and Gangster Squad.
That La La Land is written and helmed by Damien Chazelle – who made his directorial debut with Oscar-winning Whiplash last year – will do little to dent it's appeal to cinemagoers. Now, the film's trailer #2 pinpoints one more reason to look forward to the dreamy musical.
The short clip features Stone singing beautifully, lending an alternate take on Gosling vocals in the initial trailer. To our ears, her performance of Audition – which is likely to appear on the movie's soundtrack – might even trump his rendition of song City Of Stars; in terms of raw emotional, it certainly tugs on the heartstrings.
Cinematographer Linus Sandgren – who previously worked on American Hustle and Joy – also flexes his stylistic chops in the trailer. With stunning iris transitions (which hark back to vintage filmmakers using in-camera effects to begin or end a scene), purposely underexposed set-ups and completely silhouetted black and white shots, this movie looks like both a visual and sonic feast for the senses.
Set against a heightened neon-lit and dreamy Los Angeles backdrop, the film follows Stone's aspiring actress Mia as a waitress who also assists major movie stars, and jazz musician Sebastian (Gosling) who plays in rundown bars to make a living. Before long the pair meet and fall in love but as they become more successful, certain opportunities they've worked so hard for rear their heads and challenge their relationship.
Emerging as a glorious ode to old-school romance movies, with a touch of wistful melancholy thrown in – a la Baz Luhrmann's Moulin Rouge – La La Land stars Rosemarie DeWitt, American Horror Story's Finn Wittrock, John Legend and JK Simmons. It is expected in US cinemas from 16 December, and will reach UK big screens a little later on 13 January 2017.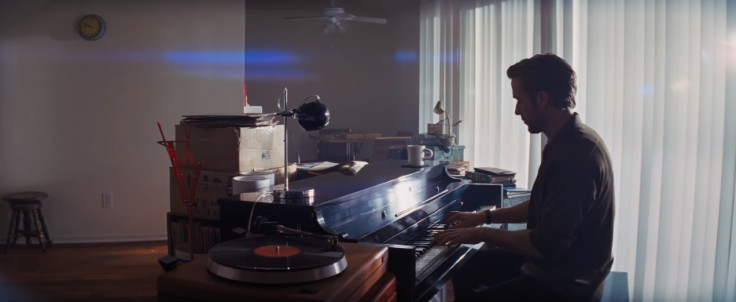 For more entertainment news follow A-List on Twitter @Alistinsider