After quitting the modelling industry last year at the age of 22, Cara Delevingne has been replacing her runway appearances with front rows seats at every show, none more so than Chanel. It is unsurprising then that if anyone was going to coax her back in front of the camera it was going to be Karl Lagerfeld, and he has done just that for Chanel's latest sunglasses campaign with Delevingne as the sole star.
The French fashion house has revealed a teaser video on their website as well as images across social media with former model bathed in blue light wearing a backwards bouclé cap modelling cross hatched oversized Chanel aviators (£355) from the latest spring/summer '16 collection. Looking every inch the cover star, Delevingne is poised with a beautiful metallic Chanel woven sequinned vest with a very blunt staggered hair style.
The Chanel favourite is also pictured modelling the new range of opticals, looking relaxed in a pair of cat eye glasses with embellished arms as well as an athletic embroidered cap.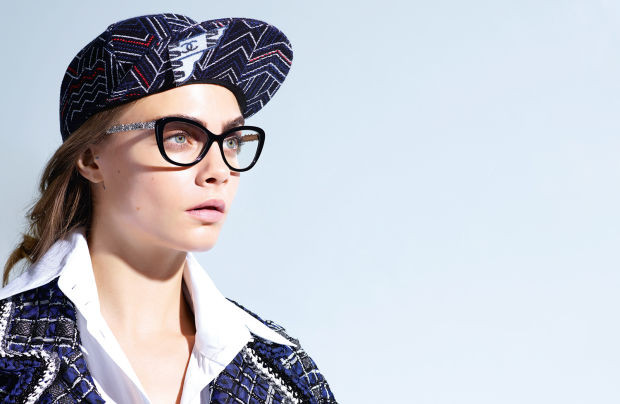 Delevingne announced that she would stop modelling last summer in order to pursue her real passion of acting, so this is a pleasant surprise for those who were more of a fan of her still life work.
However, if you think this may be a sign from the 23 year old that she is stepping back on the catwalk, you might be disappointed as Delevingne made it pretty clear in a recent blog post on Motto that her modelling days were definitely behind her.
"I started modeling when I was 16." She wrote for the website Motto "The odds were against me. At 5ft 8in, I was shorter than most girls in the business. Still, I gave it a shot, and like with most things in my life, I never gave up."
Delevingne went on to explain how the industry made her feel, saying "It took a while before I had stability in the business. I worked hard to be accepted by the fashion community in ways beyond my physical appearance. In no time, though, I found myself surrendering to the industry's approval process. I felt like I needed validation from everyone. As a result, I lost sight of myself and what it meant to be happy, what it meant to be successful."
The spring/summer '16 sunglasses are available now at chanel.com.