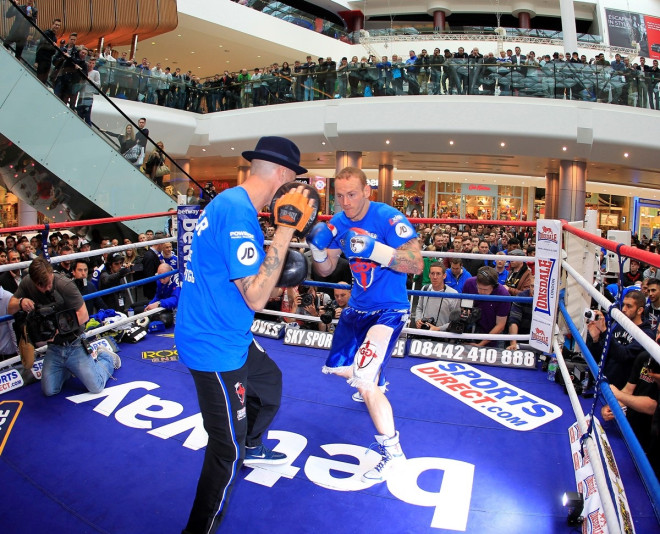 George Groves has continued to stoke the fire ahead of his much-anticipated all-British rematch with Carl Froch this weekend after labelling the Cobra's technique as "awful" just three days before the Wembley Stadium bout.
The pair has been engrossed in verbal jousting since Froch's controversial win in November, where he stopped Groves despite being put down in the opening round.
Froch has earned a reputation for withstanding punishment but Groves claims his kamikaze approach could land him in more trouble should he repeat those tactics this weekend when the duo square off for the WBA and IBF World Super Middleweight titles.
"He is ignorant enough that if he is getting hit as long as he is landing something he will keep punching," Groves told Sky Sports' Behind The Ropes.
"Technically it's terrible. It's an awful, awful style you would never encourage a fighter to box that way, you would never encourage a young kid who's just joined the gym to box like that.
"He is not a fighting man, he doesn't stalk people, he doesn't pressure fight, he doesn't back people up with aggression. He likes to stand at long range flick out a jab and hope that switches his opponent off enough so that he can dive in gun-slinging punching from the hip, crossing his feet, after two three punches digging his heels in deep enough so he can keep punching.
"Every time he gets caught he wants to go and trade he only ever trades like that when he has no other options so again coming back to that warrior mentality. I feel like it's a false truth because if he could sit and dance and look pretty then he would but he doesn't have the ability to do that so it's always back against the wall stuff with him. If you go back and look at his fights it's always desperation and for that that's the reason why you'll see him fight the way he fights.
"If he wants to concentrate on the physical aspect and that he feels he can be physically superior or superior enough that he has won the fight before he enters the ring; I wish him luck. He's eleven years older than me, he's coming off the back of a horrific beating and if he trying to do something different and runs the risk of over training.
"He's on his fight weight eight weeks out. You ask any world class fighter out there – that's never a good idea. He can sit there and try and take confidence from the way I make weight, I might drop a couple of pounds the night before – it makes no blind a difference to me."
Watch Froch v Groves II live on Sky Sports Box Office, May 31. Book online now at skysports.com/frochgroves2 or by calling 08442 410888