Marc Overmars, Nicolas Anelka, Cesc Fabregas, Robin van Persie and Emmanuel Adebayor are among the most profitable players in Arsenal's history. Curiously, though, one of the most disappointing signings in Arsene Wenger's era, Carlos Vela, will join this elite group in the top 10 alongside Patrick Vieira despite the fact that he just played 29 Premier League games for the Gunners.
The long-standing transfer saga concerning Liga MX and Major League Soccer (MLS) reared its head again last week, as Spanish publication Diario Marca reported Vela's arrival to MLS "is imminent". Arsenal would receive 20% of the fee, up to £4m ($6m), after Real Sociedad initially paid £10m in 2004.
The player lost his temper on Twitter after several days of controversy and he posted that "some people think they know more about my life than I do, and publish what they want". Vela and his agent have admitted negotiations are taking place, however the deal is not yet complete. Arsenal will have to wait a few weeks to take their total earnings from the departure of Vela to £14m.
Agent admits possible move in January
Vela joined Sociedad permanently from Arsenal for a fee of £10m in the summer of 2014. Fans in San Sebastian consider his current buyout clause of £22m to be very low but no one thought clubs from the MLS could be among his suitors. Not with him being 26 years old.
Speaking to Fox Sports earlier in December, Vela's representative Eduardo Hernández confirmed the rumours. "Carlos has been playing in Europe for 10 years, far from his family and that is why MLS is an alternative," he said according to ESPN. "We are of the thought that no doors should be closed. We do not want to limit Carlos' options and that is why we are listening. It could happen in January or in one or two years' time."
In addition, Claudio Piojo López, sporting director of Colorado Rapids, admitted in November that "we are negotiating with Vela and Real Sociedad". It is important to remark that Sociedad's president Jokin Aperribay and his right hand, the club's accountant Iñaki Otegi, travelled to the US three months ago, a trip linked to Vela's soap opera by local media.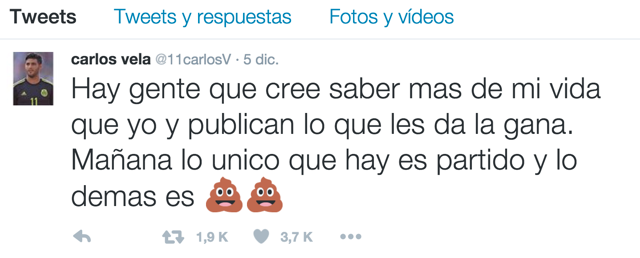 Three different scenarios
The MLS operates under a single entity structure in which teams and player contracts are centrally owned by the league. Now, they are focused on attracting new markets, and Vela would fit into this idea.
The MLS Board of Governors' meeting in Columbus took place this weekend and according to Mexican and Spanish information – expanded on by the MLS's Twitter official account, the future of Vela was at the negotiating table again. Due to the MLS's signing system, the so-called "discovery process", Colorado Rapids have the right on Sociedad's forward, but Chicago, San José and New Jersey are interested too.
The potential move, believed to be valued at £10.5m, has other aspects to be taken into account. The MLS, whose salaries are public, is more than attractive when it comes to European stars. However, the MLS has never paid more than a £4.7m fee for a player (Giovanni Dos Santos holds that record).
Aperribay is feeling the pressure of the fans. He cannot sell the player for less than the amount paid to Arsenal in 2014 (£10m). And, even if he considers accepting a record bid from the MLS, it is difficult to believe he could do that before the end of this season, as the club continue to flirt with relegation. Sociedad will have the last word even if the player puts pressure on the board of directors. And therein lies the dilemma. The player has been far from his peak during the last year and his value will probably drop.
Vela has scored in six of Sociedad's last 52 games
The Mexican's career at Real Sociedad is completely stuck. Since the club bought him, his performances have been under constant scrutiny. He has only scored in six games out of the Basque's last 52 games, a very low impact on Real's fortunes, taking into account he is the second most expensive player in the club's history.
The offer from the US has been the talk of the town in months gone by in Spain and Vela seems disappointed with all these rumours but admitting he is interested in playing in the MLS in September was not the best way of stifling the gossip. "There were several options and it was interesting to me as USA is close to my country. Until January I will be happy at Real but in January, I don't know what might happen, there will be options in January or next summer," he said according to ESPN.
January is approaching and by then, the MLS should make a decision on the Mexican but the Basques side will have the final word, while Arsenal wait for the extra money.