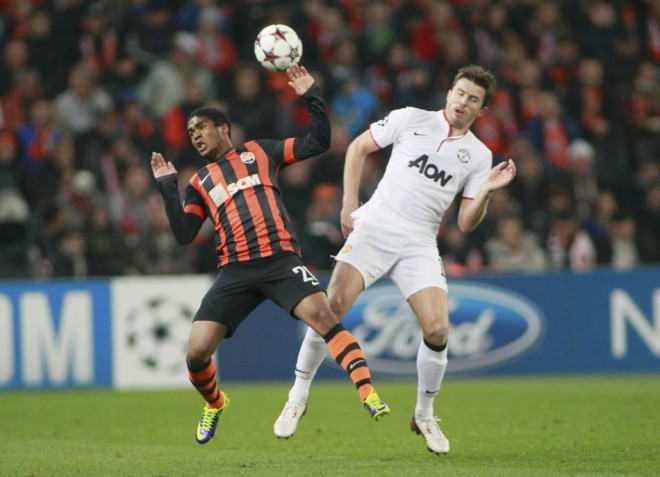 Michael Carrick believes Manchester United still have a chance to qualify for the quarter-finals of the Champions League despite suffering a setback in their first leg fixture against Olympiakos in the last-16 stage.
The Red Devils suffered a 2-0 defeat on their trip to Greece against the Greek Champions on Tuesday. Goals from Alejandro Dominguez and on-loan Arsenal striker Joel Campbell on either side of the half-time whistle condemned the English champions to their first defeat of the current European campaign.
Having failed to score a vital away goal in Greece, United now need a minimum of three goals without conceding any in the return leg at Old Trafford.
However, the midfielder insists that David Moyes' side still have a chance to turn the score around at home and secure their place in the quarter-finals.
"It's a disappointing night. We came here hoping to win and we haven't done that. We didn't react in the second half until it was too late. We had good possession in the first half, controlling the game without really penetrating through their lines and causing them any problems. They didn't really cause us any problems and [Dominguez's] goal came from nothing," the 32-year-old explained.
"We didn't start the second half very well: we were a bit sloppy really and they scored the second goal, which put us on the back foot. But we're not out of the tie. We are still in with a chance going back to Old Trafford and we'll look forward to the second leg. Don't get me wrong: to score three goals in this competition is tough, but we've done it before and we believe we can do it again," he added.
Meanwhile, former Red Devils' star Roy Keane expressed his anger at the display by his former club and went on to suggest that Moyes needs to at least sign half-a-dozen quality players in the summer despite inheriting a title winning squad from his predecessor, Sir Alex Ferguson.
"I think United need six top quality players. I would think David Moyes has been shocked. I think when he went into United in the summer he probably looked at the players and was expecting great things. Privately, he's probably been shocked at the lack of quality he's working with," Keane told ITV.