Carles Puigdemont, the President of Catalonia, has not declared independence saying instead that his region would delay seceding from Spain in order to continue with a "dialogue" with Madrid.
He signed a declaration of independence from Spain with other regional leaders calling for Catalonia to be recognised as an "independent and sovereign state".
However it will not be implemented for several weeks to allow talks with the government in Madrid, which has dismissed the declaration.
Puigdemont appeared to be about to send shock waves through Europe when he told the Catalan parliament in a landmark speech: "The only rational way forward is that Catalonia establishes itself independently.
"The relationship hasn't been working for many years and is unsustainable."
But he stopped short of declaring immediate independence, as many experts had predicted after leaders from around Europe suggested that an independent Catalonia will not enjoy a smooth transition into the EU.
Tensions have been on a knife edge following an independence referendum last weekend that was brutally interrupted by the Spanish police. "It is not an internal issue any longer," Puigdemont said.
"I am not planning any threats or insults, we all need to act responsibly and deescalate the tension. The only way to move forward is democracy and peace and that means to respect people who think differently.
"What I am going to propose is not a personal decision or my obsession but this government's commitment to honour the referendum," he added.
Puigdemont acknowledged that the world was watching his speech and took several minutes explaining the history of relations between Madrid and Barcelona since 1978 when General Franco's dictatorship fell, culminating in the violent scenes seen at the recent referendum.
After holding the floor for around 40 minutes, he appeared to be about to defy Madrid and announce an independent Catalan state.
"We are not criminals, we are not mad, we are normal people and we just want to vote. We have been ready to talk, we have nothing against Spain. It's the opposite: we want to have a better understanding with Spain," he said.
"As the president of Catalonia, I want to follow the people's will and make Catalonia independent."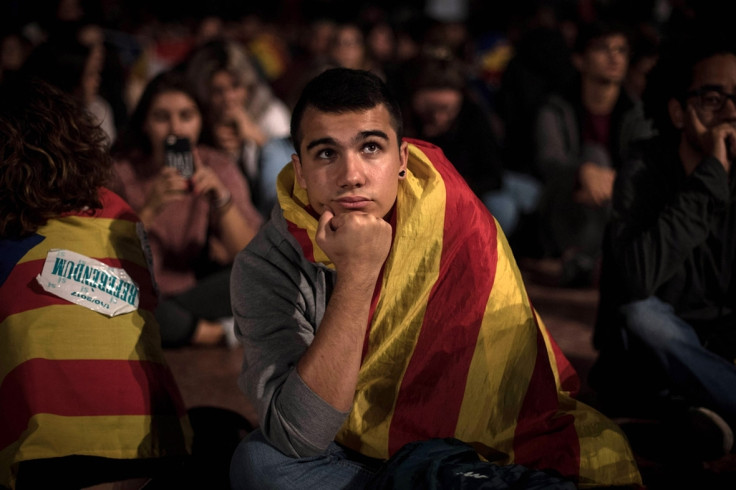 But then, at the final hurdle, he reined in his ambitions and offered a fig leaf to Madrid. In what Puigdemont described as a "gesture of responsibility", he said that they would suspend the effect of the referendum in favour of further dialogue.
"I am aware that people are worried and scared about what will happen... I want to say to everybody: be calm, have serenity, we are always willing to talk." he said, later mentioning Catalonia's economic contribution to Spain.
The announcement will come as a disappointment to some pro-independence Catalans with many expecting a unilateral independence announcement from the region's president. There is speculation that Spanish Prime Minister Mariano Rajoy could invoke article 155 of Spain's constitution to take hold of the autonomous region if independence moves closer.