The head of the Catalan government, Carles Puigdemont, has reiterated his determination to carry out the result of the region's referendum and declare independence from Spain.
After around 350,000 people gathered in central Barcelona on Sunday (8 October) to protest against Catalan independence, Puigdemont told the 30 Minutes programme to be broadcast on Spain's TV3: "If the state does not respond positively, we will do what we have come here to do."
He said that he was disappointed that no offer of mediation was yet forthcoming from Madrid and did not specify any details of what he will do in the immediate aftermath of the referendum.
Puigdemont is expected to address the regional parliament on Tuesday (10 October).
"The declaration of independence is expected under the legislation of the referendum as an application of the results.
"Therefore we will apply what is set out by law," he said in a preview piece of the TV3 programme, seen by Europapress.
However Madrid's delegate in Catalonia, Enric Millo, warned of the risks of declaring independence.
"It would be a very serious irresponsibility, it would break the little that has not been broken. very difficult to predict," he said.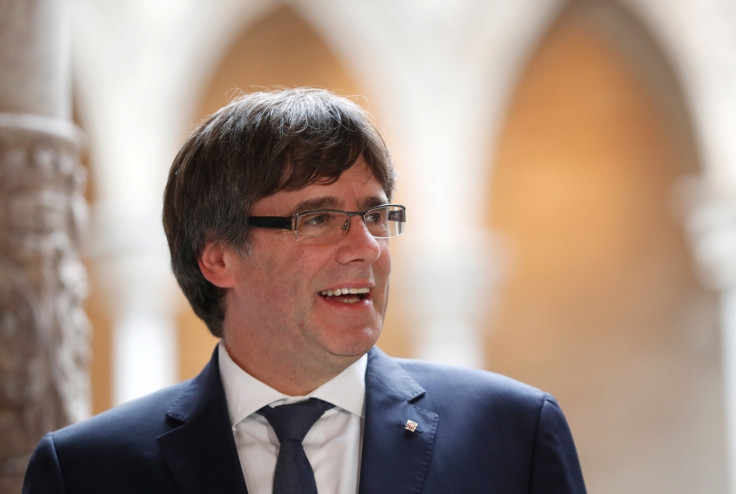 Meanwhile, the Spanish prime minister, Mariano Rajoy, said he would not rule out anything "within the law" to prevent Catalonia from seceding which could include taking over the regional government's powers, although that is likely to deepen the country's political crisis.
Rajoy told El Pais: "The ideal would be not to have to take drastic measures. I would like this threat of a declaration of independence to be withdrawn as quickly as possible."
The referendum in the wealthy north-eastern region saw around 90% of the 2.3 million people who voted back independence although turnout was only 43%.
Spain's Constitutional Court suspended a Catalan parliament session planned for Monday (9 October).
Alex Ramos, the vice-president of Societat Civil Catalana, the pro-unity group that organised Sunday's rally said, according to the Guardian: "What we've seen today has been a social escape valve," he said. "It's been a cathartic expression, with people saying: 'Look, enough! Stop dividing us'.