As the political crisis in Catalonia escalates, analysts are warning one of Spain's most economically prosperous region is about to suffer a self-inflicted wound.
The warning comes after Spanish authorities allegedly used heavy-handed tactics to stop Catalonia's independence referendum on Sunday (1 October) that Madrid decreed was illegal in a stance endorsed by the European Union.
The referendum question, which voters answered with "Yes" or "No", was "Do you want Catalonia to become an independent state in the form of a republic?"; with the "Yes" side winning with 2,020,144 (91.96%) voting for independence in a fraught poll with a turnout of just over 42%.
Subsequently, Catalan leader Carles Puigdemont said he would issue a declaration of independence.
However, Spain's Constitutional Court has suspended next Monday's session of Catalan parliament, in a bid to pre-empt a possible push for independence, declaring such a move to be "a breach of the constitution". Spanish Prime Minister Mariano Rajoy has already said any such move by Puigdemont will not be recognised.
The ongoing row is rapidly denting investor confidence. S&P Global Ratings has placed autonomous Catalonia's ratings on its credit watch with negative implications.
"We see a risk that this escalation may damage the coordination and communication between the two governments, which is essential to Catalonia's ability to service its debt on time and in full. We are placing our 'B+/B' ratings on Catalonia on credit watch with negative implications."
The ratings agency said escalating tensions were not doing Catalonia and the rest of Spain any favours. "Against this backdrop, Catalonia continues to depend on central government funds to service its long-term debt and finance its deficits."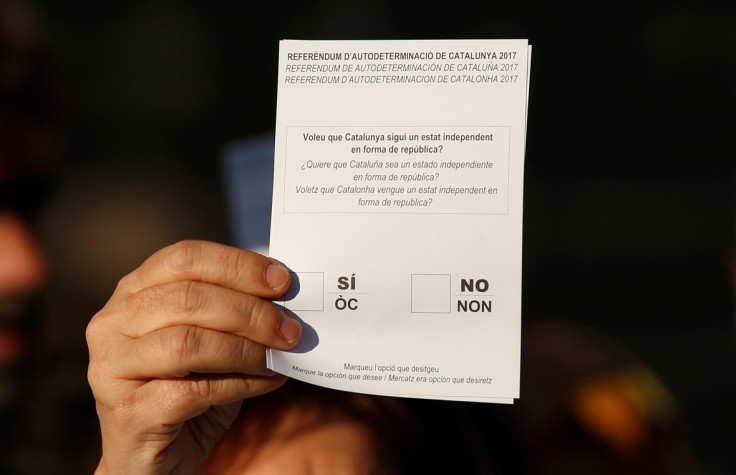 As recently as 28 September 2017, the government authorised the transfer of €7.87bn (£7.02bn) of liquidity funding to cover the regional governments' needs for the fourth quarter of 2017. Of this amount, €1.97bn, or 25% of the total, will go to Catalonia.
"Our base-case scenario remains that Catalonia will continue to be a part of Spain. However, we cannot rule out that the effectiveness of financial cooperation between the regional and central governments may weaken over the next several months," the ratings agency said.
Amid the rising tension, banks incorporated within Catalonia, including the region's biggest bank Banco Sabadell, are contemplating moves to relocate their corporate headquarters elsewhere in Spain.
News agency Europa Press reported on Thursday (5 October) that the Banco Sabadell is contemplating such a move to ensure that it remains under the legal framework of the European Central Bank, the region's financial regulator.
While the agency said that the Spanish capital Madrid, Alicante and Oviedo are some of the destinations being considered for the new registration, the bank itself declined comment.
Banco Sabadell's shares have registered heavy losses in recent sessions, but recovered on the news of relocation, up 5.66% or 0.09c to €1.68 at 3:35pm BST.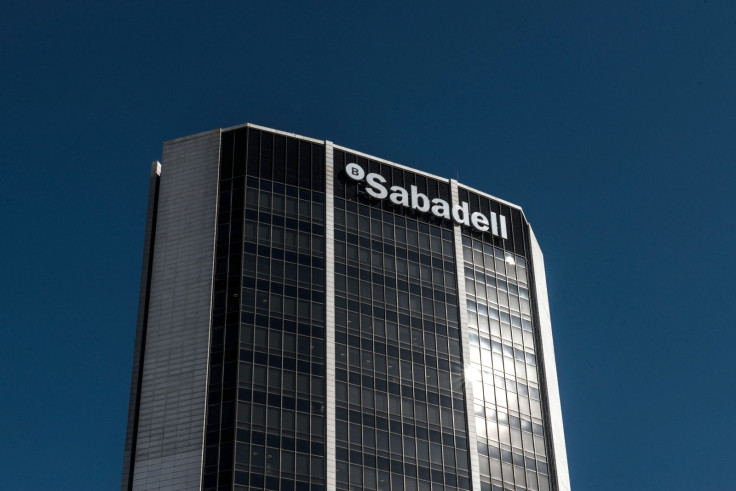 The Reuters news agency, citing an informed source, said Caixabank is also among the financial players considering moving their legal bases from Catalonia to another Spanish location.
Meanwhile, anxiety over Spain has also started weighing on the euro, with the common currency down 0.21%, 0.36% and 0.04% versus the dollar, yen and Swiss franc, changing hands at $1.1734, JPY132.15 and CHF1.1464 respectively.
However, the euro recovered from overnight losses against the pound to change hands at £0.8921, an intraday rise of 0.50%. Lukman Otunuga, Research Analyst at FXTM, said market sentiment is bruised by the political uncertainty surrounding Catalonia, which exposed European shares to downside risks during the overnight trading session.
"From a technical standpoint, the EUR/USD remains under noticeable pressure on the daily charts. Bears remain in control under the 1.1830 lower high, with an intraday breakdown below 1.1730 opening a path towards 1.1680."