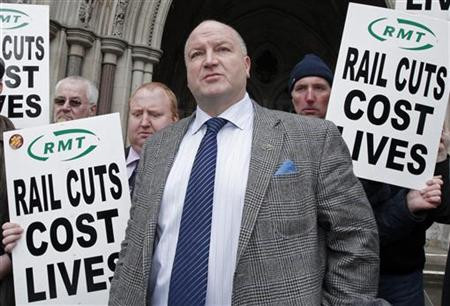 The Confederation of British Industry has called on the government to introduce new laws to reduce the frequency of strikes. The call comes as Londoners again face the inconvenience of Tube strike's launched by Bob Crow's RMT union and TSSA.
The CBI warned that strikes by public sector workers were likely to become more common, should the government take "the necessary steps to reduce the deficit".
The CBI said that the law should be changed so that strikes could not take place unless at least 40 per cent of union members vote in favour of strike action. Currently strikes can be held if over 50 per cent of those who vote support a strike, even if low turnout means only a few people are actually in favour of a strike.
In addition the CBI said that businesses should be allowed to recruit agency workers to cover for striking workers. Businesses are currently able to hire temporary staff, but may not do so through an agency.
John Cridland, CBI Deputy Director-General, said, "Industrial action is never inevitable, and in most cases common sense prevails and negotiation wins the day.
"We want to see public sector managers and unions going the extra mile during the difficult times ahead and working together constructively to avoid damaging industrial action.
"Our proposals suggest improvements to employment law that will help ensure that strikes remain a last resort.
"When a legitimate strike threatens to disrupt the services on which the public depends, it is only right that it should require a higher bar of support. That is why no strike should go ahead unless 40% of the balloted workforce has voted for it.
"While workers have the legal right to withdraw their labour, employers have a responsibility to run their businesses. The public increasingly expects it to be business as usual, even during a strike, so firms must be allowed to hire temps from an agency to provide emergency cover for striking workers.
"The re-emergence of unofficial wildcat strikes using social networks to evade the law has been particularly worrying. The union regulator needs to be given the power to stop these abuses which undermine the reputation of responsible unions."