President Juan Manuel Santos has said that the ceasefire agreement between the Revolutionary Armed Forces of Colombia (Farc) and the Colombian government will be extended until the end of 2016. The move is aimed at reviving a peace accord, which was signed between the rebels and the government in September to end a five decade-long conflict. However, the deal was rejected by the people of Colombia in a subsequent referendum held on 2 October.
On 13 October, President Santos and his team held a meeting with leaders of the "no" campaign – who voted against the deal – to make amends to the accord.
According to reports, the president will meet Farc leaders in Havana to further discuss the changes that need to be made to the deal. However, Farc chief Rodrigo Londono aka Timoleon "Timochenko" Jimenez had earlier said that he would not re-negotiate some elements of the accord, including the sentencing of the rebel fighters.
Santos said that after meeting with student leaders who had organised the Thursday march, he decided to extend the ceasefire. "One of the students reminded me, that in the army and in the guerrilla ranks, there are young people waiting to see what happens, hoping that they don't need to fire another shot. For that reason, and at the request of the students, I have taken the decision to extend the ceasefire until December31," Santos said in a televised interview.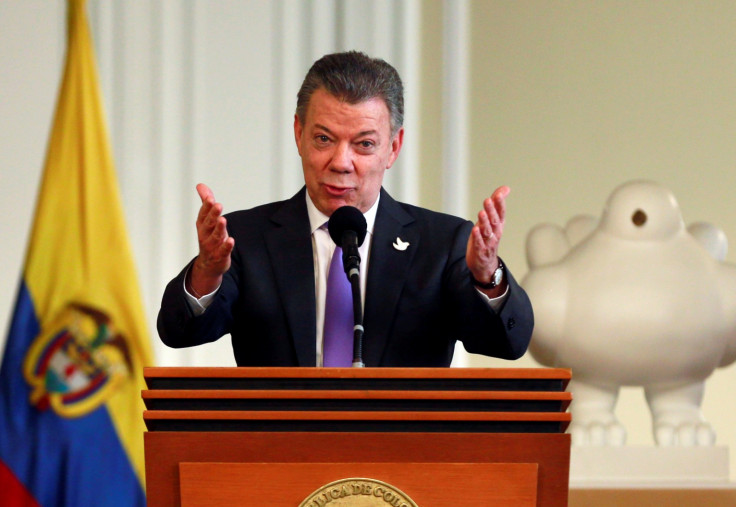 The historic deal, meant to end the bloody conflict, was rejected in the referendum as leaders of the "no" campaign – led by former president Alvaro Uribe – demanded five to eight years of confinement of the rebels. They disagreed with the agreement in which Santos' government offered 10 congressional seats and non-traditional sentences like clearing landmines instead of jail terms to the rebels.