Colombia: Ceasefire with Farc rebels will end on 31 October, says President Juan Manuel Santos
Farc chief Timoleon "Timochenko" Jimenez asks whether war will continue after armistice ends.
Colombian President Juan Manuel Santos said on Tuesday (4 October) that the ceasefire agreement reached with the Revolutionary Armed Forces of Colombia (Farc) will end on 31 October as he struggles to find a solution to end the 52-year conflict after voters rejected the peace deal in a referendum earlier on Sunday.
For the deal to be implemented a referendum was held, wherein Colombian voters rejected it by a narrow margin. While, 49.78% voted "yes", 50.21% were against the deal.
Farc chief Rodrigo Londono aka Timoleon "Timochenko" Jimenez was quick to respond to the president's statement. He wrote on Twitter: "And after that, the war continues?"
He had earlier promised that Farc fighters would continue to observe the ceasefire, despite the referendum results.
However, Santos said, "I hope we can move forward to realise the necessary agreement to find a solution to this conflict."
To save the peace deal, the president has already formed a team of top government officials including Foreign Minister Maria Angela Holguin, chief peace negotiator Humberto de la Calle and Defence Minister Luis Carlos Villegas to hold talks with the "no" camp, backed by former president Alvaro Uribe.
The Colombian president is also scheduled to meet former presidents Andres Pastrana – who is also a major opponent of the peace deal – an hour before meeting Alvaro Uribe at the presidential palace later on Wednesday.
Meanwhile, Santos said on Twitter that he had invited the two former presidents "to [hold] dialogue... in a constructive spirit."
The government and Farc rebels reached the peace deal after years of hard negotiations on 24 August in Havana, Cuba and was followed by a ceasefire agreement on 29 August, which was proposed to be permanent.
However, after the Sunday's national vote, the situation has changed.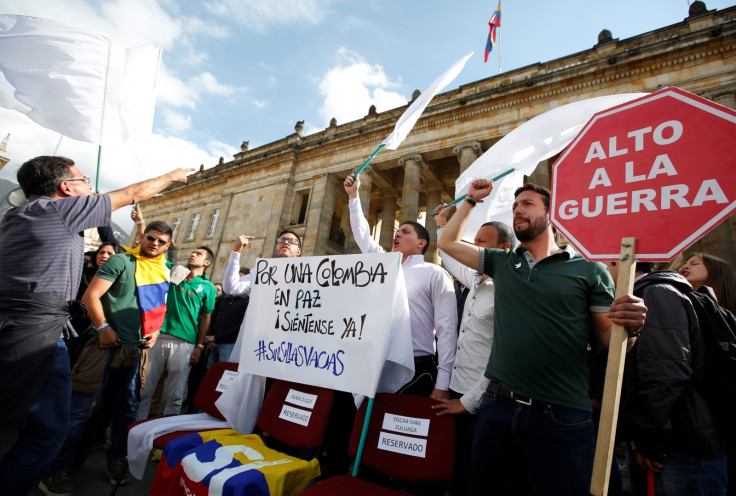 De la Calle returned to Havana soon after the referendum to hold talks with the Farc chief regarding altering the peace deal. Later, the foreign minister said, "The decision on whether to open up the agreements is a decision that falls to the Farc" and added that the government was "fully ready" to listen to opponents of the deal.
"There was no Plan B. We believed the country wanted peace," Holguin said, while citing the results of Sunday's poll.
© Copyright IBTimes 2023. All rights reserved.